Want to spend more time in nature with your kids this year? You might like Wild Kids Magazine, a free monthly nature-based magazine for kids and their grown ups that I've created for families to print out or read online.
As I explained in the welcome message at the Wild Kids Magazine website:
Wild Kids magazine was created to help teach kids and their grown ups about nature and all the ways it's awesome. Every month, you'll learn about a different wild plant that you can forage and how to use it. We'll also share seasonal ways to get out in nature, botanical coloring pages, nature-based crafts and activities, nature-based poems, weather facts and lots more.

We know that people live in all kinds of places with all kinds of weather and types of nature, so we'll try to offer stuff that will be helpful for as many families as possible.

For each month, check here for additional links and resources to round out the month's themes.

Please drop me a line if there's something in particular you'd like to see!
Wild Kids Magazine debuted at the start of the year with the 16-page January issue (in PDF format).  It includes printable plant ID pages, nature journal pages and other printables, plus seasonal poetry, ways to have fun with nature this month and lots more.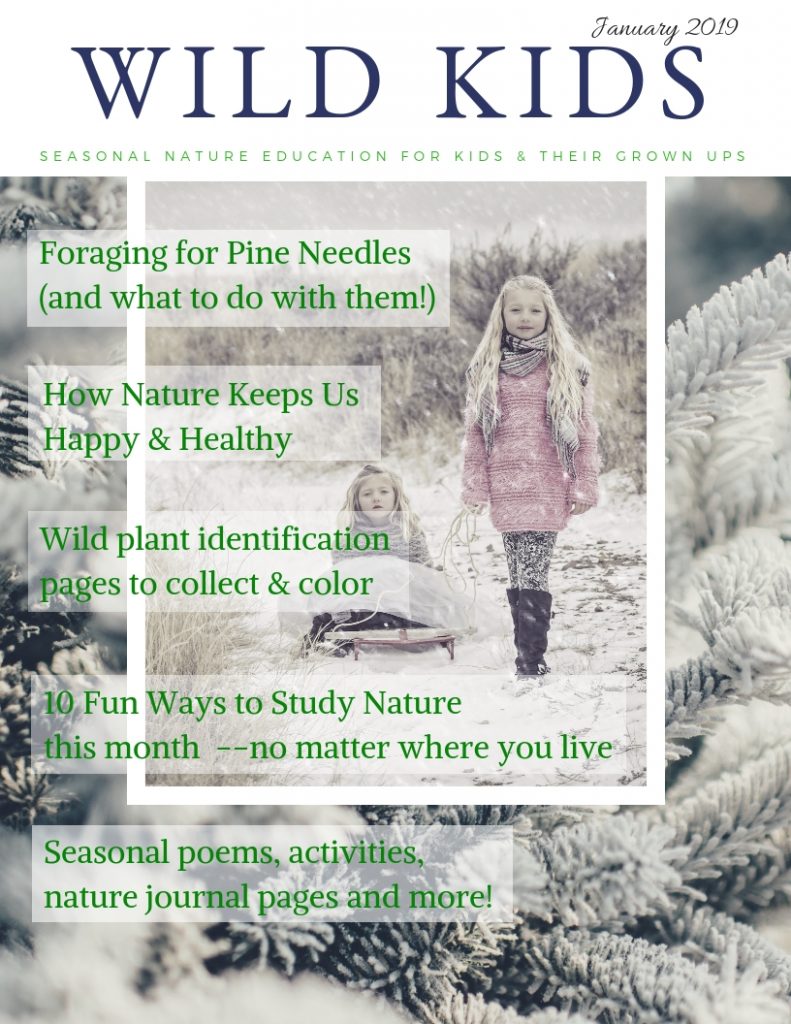 The February issue is in the works now, and should be online at Wild Kids Magazine by the end of January.
And yes, the magazine is 100% free.  You don't need to sign up for anything, give me your email, buy anything or do anything at all.  It is my "Miss Rumphius" gift to families ("You must do something to make the world more beautiful"), just as Magical Childhood has always has been.  I am perhaps a little crazy to take on such a big monthly project with all that I already have going on, but I've been having fun putting it together and involving my kiddos in the process.
And who says there's anything wrong with being a little crazy?  😉
Please share this news with anybody who might be interested.  Enjoy!