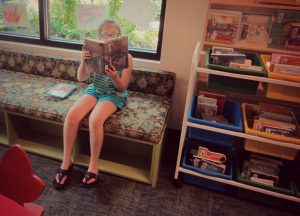 Wouldn't it be nice if there were websites where you could just type in the title of a book you like, and find a list of similar books to read next? The good news is that there are lots of sites like these. Not only are they great to help adults find new books to read, but they're also wonderful to help find new ones for kids and teens.
The Book Seer is one such site. This simple page asks you to type the name and author of a book you just read. Then it posts a list of books that Amazon.com and the Library Thing recommend as similar to that book. For instance, when I typed in "The Fault In Our Stars" by John Green, it told me that Amazon.com recommends these books as similar:
An Abundance of Katherines by John Green
Eleanor & Park by Rainbow Rowell
Unbroken: A World War II Story of Survival, Resilience, and Redemption by Laura Hillenbrand
The Book Thief by Markus Zusak
The Girl on the Train by Paula Hawkins
Let It Snow: Three Holiday Romances by John Green
Looking for Alaska by John Green
If I Stay by Gayle Forman
Where She Went by Gayle Forman
Paper Towns by John Green
What Should I Read Next? takes it a step farther and gives you a list submitted by members of the site. It also gives you a list of themes that describe the book that you can click on to see more books on those themes. For "The Fault In Our Stars," it showed a long list with the general themes of each one of those. Some of the suggested books included The Statistical Probability of Love at First Sight, Struck By Lightning, Saving June, Where She Went, Stay, How to Save a Life and If I Stay, plus many others.
Note that some of the titles suggested may be quite different than the original book at this site. For instance, when searching for "Winnie the Pooh," some of the books it suggested were teen books with very mature themes. That said, because the themes are so clearly listed, it's easy to recognize this as you search for books.
Your Next Read lets you browse by sections (including children's) or search by book. Searching by individual books for recommendations gives you fewer results. For instance, for "The Fault In Our Stars," it recommended Out of My Mind, Looking for Alaska, If I Stay, The Book Thief, Paper Towns and The Maze Runner. This is a fraction of the number recommended by What Should I Read Next? but the system is well done and fun to use. When you search for a book, your book will show up in the center of a graphic and up to seven books will appear in a circle around it (along with the option to recommend your own). If you click on one of these, that book moves to the middle and you can see the books that surround it.
In some cases, even fewer books will be suggested at Your Next Read. For instance, for "Winnie the Pooh," the only books shown were Alice's Adventures in Wonderland and Through the Looking Glass, Black Beauty and Flush (a novel by Virginia Woolf told through the eyes of her cocker spaniel). This is a great opportunity for visitors to suggest their own books, though.
Your Next Read is nice in that you can browse categories of books in the children's section such as 2011 Librarian Guide : Younger readers or 12 Years and Up, for example. Clicking on any book in these lists gives you the same graphic with the books that surround it, along with the option to click through those and discover more books.
All three of these sites should be great tools to help kids find new books to love. Don't forget the human resources we all have at our disposal, too. Local librarians can be invaluable helpers in finding new books, as well.