Tired of spending too much money on gluten free flour mixes that are expensive, gritty, low in nutrition and high in cheap ingredients like white rice flour?  It's so easy to mix up your own gluten free flours for tastier baked goods with more nutrition — and they cost far less money.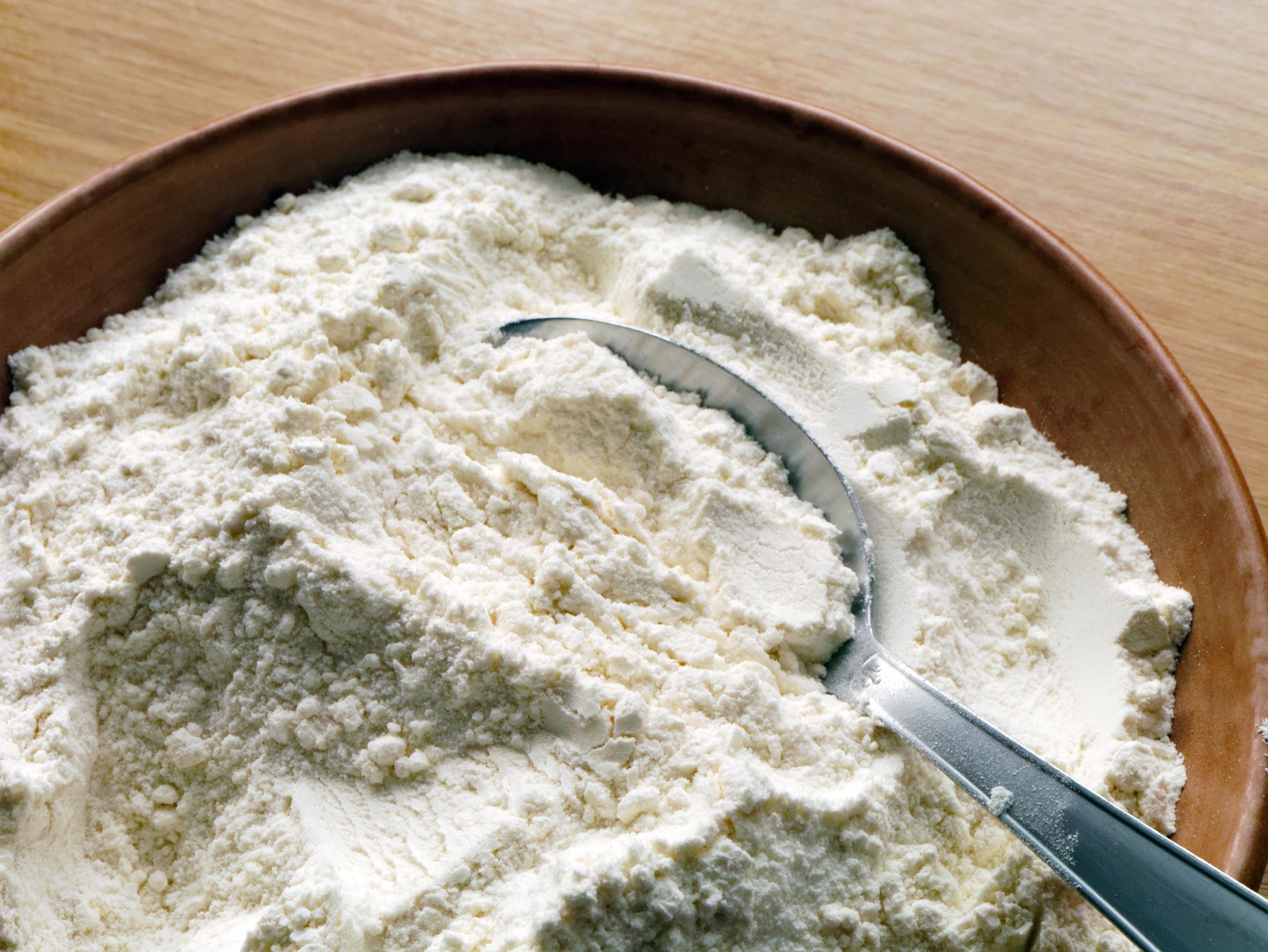 Here's the recipe we use for any baked recipes that call for gluten free flours, especially things like cakes and muffins.
Note that this is a recipe for mixing various starches and flours for a gluten free FLOUR for cake mix.  This is not a cake mix, as that would include sugar, flavoring and other ingredients.  I am working on developing a GF cake mix for home, but this is just the flour mix to use in recipes.
Easy Gluten Free Cake Flour Blend
400 grams millet flour
300 grams sweet rice flour (not regular rice flour, this is also called glutinous rice flour but it contains no gluten)
300 grams potato starch
Why these flours? 
Millet flour is a good protein flour that has a mild taste, provides good structure, and is not as gritty as rice flour. 
Sweet rice flour gives moistness and helps it stick together (gluten free baked goods can be crumbly otherwise). 
Potato starch gives lightness. 
All of these flours are also relatively inexpensive, too.  I purchase them in bulk and store them in the freezer, though I grind the millet flour myself  in my Vitamix dry blender.
I make this up in a big jar and use a scale to measure it right into the jar and shake it to mix. I have found that my digital kitchen scale is so handy for this sort of thing and was well worth the small cost on Amazon (this is the one I have).  I looked online for conversions into cups for you and found wildly different results, so I'm not sure what this translates to in cups since gluten free flours have such different weights.
Where I get each flour/grain for the best bargains:  You can find these in larger grocery stores (look in the health food section for the millet and potato starch and the Asian section for the sweet rice flour), health food stores or online.  I usually get them all at Azure Standard, which has good prices for natural and organic foods and is an ethical company I like to support.  As a backup, I order them on Amazon.  I pick up sweet rice flour at our local Asian grocery very inexpensively.
If you need to substitute:  You can use sorghum flour or brown rice flour instead of the millet flour, and tapioca starch or arrowroot starch instead of the potato starch.  There is no good substitute for sweet rice flour but it's quite easy to find, especially in Asian food stores.  I suppose in a pinch you could substitute another starch for the sweet rice flour, too.  Note that this recipe works best with this particular combination of flours though.
This versatile mix works well for cakes, pancakes, muffins, cookies and breading things like dandelion fritters and fried morels.  Store it in the fridge to keep it freshest, unless you bake as often as I do.  I make a double batch a week.  🙂
~~~
This post contains affiliate links.  Purchases made through our links may earn us a small commission at no extra cost to you.  Thanks for supporting our site!
Please follow and like us: