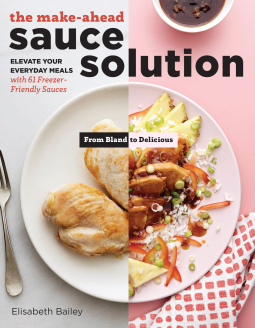 A new cookbook has the perfect solution for that supper time rut.  The Make-Ahead Sauce Solution: Elevate Your Everyday Meals with 61 Freezer-Friendly Sauces by Elisabeth Bailey offers a wonderful variety of sauces to use in all different ways that can help take simple meals to the next level.

Anyone who's ever eaten at a great restaurant or even a good food truck knows that a well made sauce can transform a simple dish into something really mouthwatering.  Buffalo sauce can turn cauliflower pieces or chicken wings from bland and boring to delicious, for instance.  Plain tofu (please don't ever serve that, by the way) or fish become delicious with something like a pineapple ginger sauce.
While there were a few things that about this book that didn't work well for our family, it was a fun and novel book in enough areas to highly recommend it.
The author presents recipes in chapters according to regions and tastes — Americas, Asian, cheese and wine, pestos and Mediterranean. The basic idea is to make up the sauces, put them in freezer bags, and have them on hand to jazz up your meat, rice, potatoes, seafood or pasta (or dilute them and make them into soup). Most of the suggested pairings were for meats and seafoods. As a vegetarian cook, this meant that I had to tweak the basic formula a bit. The author assumes that the only alternative to meat is tofu, while I'd be more likely to use sauces to change up things like chicken of the woods mushrooms, homemade veggie patties, and so on. (Side note: I would absolutely love to see a vegetarian version of this kind of book come out.)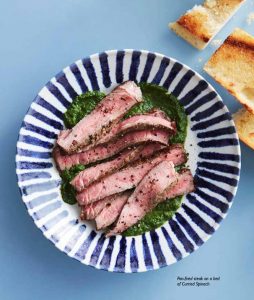 All that said, I love sauces and this is a fantastic simple recipe book for sauces. I'm perfectly able to swap out ingredients to make them allergy friendly or vegetarian/vegan. There are also lots of color photos and many of the recipes are quite simple.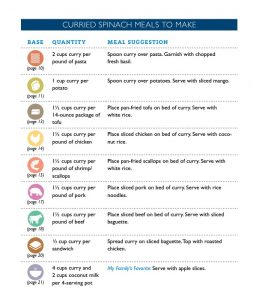 There are incredibly helpful and easy to use charts next to each sauce telling you how to use them. These are color coded with a little logo showing which things you can use them with (a little picture of a pig for pork, or grains of rice, for instance) and then it tells you how much of the sauce to use and suggested sides. One option is highlighted for each as the author's family's favorite.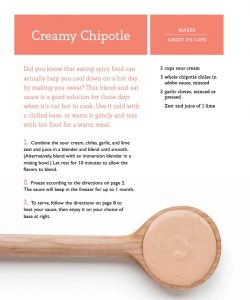 Example recipe: Creamy Chipotle — 2 cups sour cream, 3 whole chipotle chiles in sauce (minced), 2 minced garlic cloves, the zest of juice of one lime. The chart to the side lists ways to use this with potatoes, rice, chicken, tortillas, etc. This is one of the easiest recipes in the book, but it's an example of how versatile the sauces can be. Of course, this also shows that this might not be the best book for folks who are trying to lose weight. 😉
This book retails for $16.95 but it currently highly discounted on Amazon. I'm likely to purchase my own copy since there were so many recipes I could see myself referring to again and again (though I would adapt them for our dietary needs).
Bottom line: The Make-Ahead Sauce Solution will be good for cooks who like to cook from scratch and want to add flavor and change up their meals. It's designed for people who eat a standard American diet but easy to adapt for vegetarian and gluten free diets (and sometimes vegan). Full color photos and clever charts make the recipes appealing and easy to plan around. This would make a good book for cooks who like to play with flavors and sauces.
Highly recommended.
Standard dislaimers:  I was able to read a temporary digital version of this book for purposes of review.  I received no compensation for this review and have no affiliation with the author. This page contains affiliate links.
Please follow and like us: