If you don't have access to affordable organic suppliers like Bountiful Baskets or a good local CSA, Azure Standard is one option to get a monthly box of assorted organic fruits and vegetables. 
The box costs $33 (as of August 2017), plus a small delivery fee (generally about $10 for my order of about $120 worth of items, so under $5 for the box).  If you are familiar with Azure Standard, you know that it is a food coop that delivers healthy and organic food by truck once a month to drop locations around the country.  They also ship many of their products. 
The organic fruit and veggie box has a shipping weight of 10 pounds (meaning you are charged for 10 pounds of weight) but in my experience it weighs a lot more than that and is usually a good sized box. 
Here are the fruits and vegetables listed as possible entries in the July box (blue entries were in my box, red entries were not): 
Blueberries
Cherries
Avocados
Pineapple /Thai Coconut
Mango
Bell Pepper
Radishes
Kohlrabi
Valencia Orange
Grapefruit
Kiwi
Fennel
Cherry Tomatoes
Cantaloupe
Garlic
My box arrived on August 1 but I suppose it was a July box (the website still lists fruits for July).  Here's what it looked like: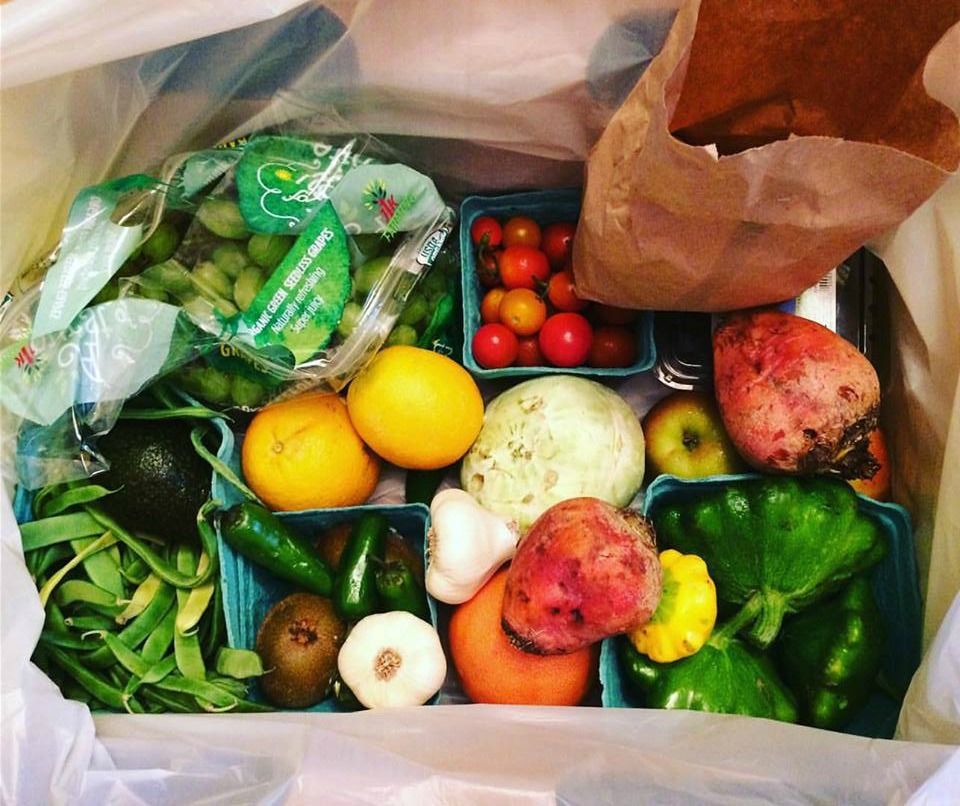 It contained (blue entries were listed as probable contents that I did get, green items were not listed but were included):
Blueberries (1 pint)

Avocado (1)

Kohlrabi (1)

Valencia Oranges (2)

Grapefruit (1)

Kiwi (2)

Cherry Tomatoes (1 pint)


Garlic (2)



Apples (2)
Patty pan squash (one quart box)
Jalapenos (5)
Golden beets (2)
Apricots (one small paper bag)
Romano snap beans (1-2 pounds?)
Green grapes (2 pounds)
There were 7 types of fruits and veggies that were listed as possibilities that were not included, but there were 7 other ones that were.  In total there were 15 different types of organic produce — 7 fruits and 8 veggies (counting things like avocados as veggies even if they are technically fruits).
I also photographed my January organic box and typed up a detailed list of the contents for Facebook earlier this year.
https://www.facebook.com/alicia.bayer/posts/10155029735942033
You can read the comments if you'd like to know more about exactly what was in that box. 
So is the organic fruits and veggies box from Azure Standard worth the cost? 
In my opinion, it is.  You get a nice variety at less than you'd pay in stores and it's generally in good condition.
That said, since AS only delivers once a month, this is obviously only going to work for part of your fresh organic produce for the month. 
Things I like about the Azure Standard organic fruits and veggies box (and the company in general):
Produce tends to be good quality and in good condition. 

The cost is good for organic — you would probably pay as much or more in a grocery store for the same produce that was not organically grown.

Azure Standard is excellent at refunding the cost of any items that do not arrive in good condition (just call and they'll apply a credit for that portion to your next order).

The variety box lets me try new types of produce and get some items that I normally wouldn't order since they are more expensive.

It's a good mix of fruits and vegetables.

I like the surprise of not knowing what we're getting each month.  It's a bit like Christmas!  😉

I enjoy cooking around seasonal items that provide some variety to our regular menus.

There are many items in the organic boxes that are not typically offered in my grocery stores as organic options (if they're offered at all).  Good luck finding an organic kohlrabi or fresh organic apricots at Aldi!

Most of the produce is grown right at their organic farm or near to it.

Azure Standard is a company that really cares about organic and sustainable farming, the environment and health issues.  I trust their organic foods far more than what's sold in many big box stores, like "organic" garlic at Walmart that is grown in China.
Things that are drawbacks about the box (and are drawbacks about CSA subscriptions and most other organic produce boxes, too):
You may get produce that your family doesn't like or that you have to learn new recipes to use.

There can be more varieties of vegetables than fruits in winter months (plan on lots of citrus and apples in the winter!).

You have to plan your menus around what you get, which some people dislike.

You need to be near a drop location (I'm not sure if they ship the variety boxes or not) and arrange to pick your order up when it arrives or have someone else do it.

You must order a minimum order, which I believe is $50.  That said, they have a ton of great prices on bulk organic foods so that has never been a problem for me.

The box is not enough organic produce for a family for the whole month, even though they only deliver once a month.  You will probably need to supplement the box with organic produce from a variety of other sources.  We do this and consider the Azure Standard box just a part of our monthly produce.  (Note:  Azure Standard does also sell a large selection of other organic fruits and vegetables that you can order, too.  I tend to stock up on their seasonal sales on some produce items but get the bulk of my organic produce elsewhere at better prices and/or grow my own. Do make sure to always browse their produce selection when you order, though, because there are fantastic prices on some seasonal organic produce.  They have the best prices anywhere on cases of organic apples in late summer and fall for instance — generally just over $20 a box or about a dollar a pound and they're in excellent condition.)

Some people don't like the element of surprise!
The Azure Standard variety box works well for us.  We get our more unusual and expensive organic fruits and veggies of the month there for a pretty low price.  Then we supplement with organic fruits and vegetables for the rest of the month's supply from a variety of other sources that all have their own strengths, such as Costco, Aldi, our own yard, foraging and bartering. 
I hope you found this useful!  Make sure to also follow our FYFO100 Facebook page and look around our site for more on the Feed Your Family Organic for $100 a week (or less!) advice. 
…
Note:  I have no affiliation with Azure Standard, and offer this information only to help my readers.  None of the links on this page are affiliate links and I will not benefit in any way from your purchases.  🙂 
Please follow and like us: