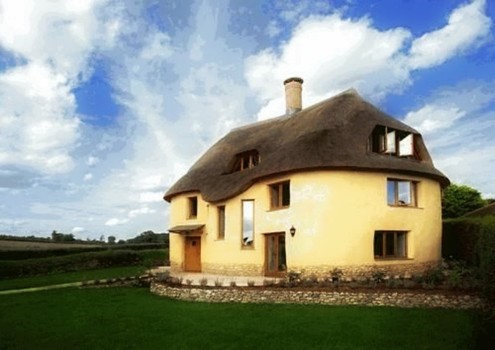 Cob houses are becoming more and more popular again, thanks to how amazingly inexpensive they are to build and the fact that just about anybody can build them. Becky Bee's landmark book on the subject, the Cob Builder's Handbook, is available for free online to help teach people how to do it.
Despite the unusual sounding name, cob houses are not made of corn cobs. Mother Earth News explains that "cob building gets its name from the Old English term for 'lump,' which refers to the lumps of clay-rich soil that were mixed with straw and then stomped into place to create monolithic earthen walls." Cob is a natural building material made from soil, water, fibrous organic material (generally straw) and sometimes lime.
Cob building is believed to have begun in Europe about 800 years ago, and some cob buildings from the 16th and 17th centuries are still standing. In England alone, there are at least 50,000 cob buildings still in use. Cob building developed independently in other regions of the world such as Africa, the Arabian Peninsula, and parts of Asia and the southwestern U.S. Some of these buildings have also survived well over the years. There are cob buildings still standing in Yemen that are nine stories tall and more than 700 years old.
There are many advantages to building cob houses. They are extremely inexpensive to produce, are earth friendly, use local (natural) materials, don't requite special equipment, are fireproof, can be adapted to whatever building supplies you acquire (such as unique old window shapes and any roofing material), and withstand the elements and time very well. In addition, the process is easy to learn and many people report that it's quite enjoyable. Some people also like the non-traditional looks and creativity available for those who design their own cob houses.
The Cob Builders Handbook by Becky Bee was written in 1997. This excellent introduction to cob building includes detailed information about how to design your home, choose a site, gather materials, take care of drainage, lay the foundation and floors, make test bricks, make cob, install windows and doors, make many kinds of roofs, mix and apply plaster, take care of finishing touches and much more.
Bee allows the 183 page PDF version of the book to be shared for free, writing:
The author hopes the information in this book will be shared with everyone. Therefore parts of this book may be reproduced and shared without the permission of the author, so long as the information is freely given and the source is acknowledged. No parts of this book may be reproduced for profit without the prior written permission of the author.
This is a great resource to learn more about this affordable, earth friendly building method.
***
This article originally appeared on examiner.com.
Please follow and like us: