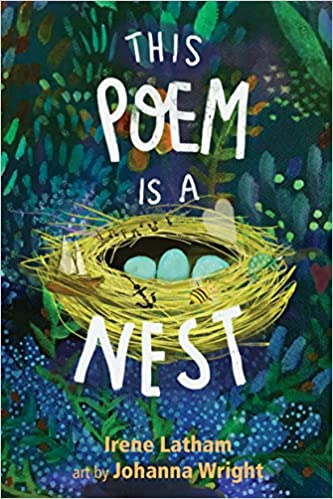 Looking for a way to get kids excited about poetry? A delightful new poetry book, This Poem Is a Nest, has just been released that does it in a wonderful way.
This creative book is not just filled with fabulous short poems, but they're all "found poems" created from words in a poem at the start.
Author Irene Latham first gives us a 37-line poem, Nest, divided into four sections or seasons. From this poem, she has created 161 "nestlings" or poems made up of words found in the original poem, in order.
Some of the poems are as short as two lines — plus a title, which does not have to include found words and often helps clarify the subject. Some combine words to make wonderful new words like wordflight and frostsong. In some cases, she finds words inside other words, like using ink from wrinkly.
The poems are grouped by themes, including animals, emotions, planets (one of my favorite sections), places around the world and more. At the end, she gives tips for kids to make their own nest poem and nestlings, with very good suggestions to help them be successful. Sweet illustrations by Johanna Wright accompany the poems.
Here's a lovely sample poem:
Sun's Complaint

near ancient moon
rattles
when it dreams
I was able to preview a digital Advance Reader's Copy of the book from the publisher. It is set to be released on September 29, 2020. You can look for it at your local library or find it on Amazon (affiliate link) or at your local bookseller.
The book would be great for younger children but any age will find delightful inspiration here. This would be a fantastic accompaniment to a poetry unit study.
Well recommended.