Here's a great resource for high school or advanced middle school level American history. USHistory.org offers its entire U.S. history textbook free online.
The 60-unit textbook covers our nation's history "From Pre-Columbian to the New Millennium," with chapters beginning with Native American Society on the Eve of British Colonization and ending with Toward a New Millennium.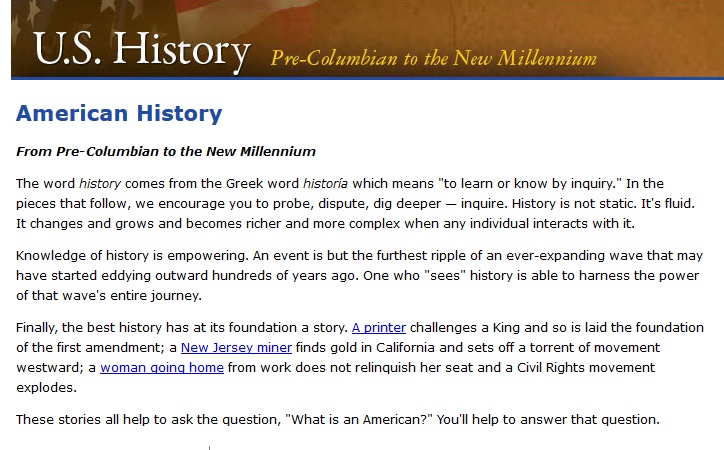 Each chapter contains between four and nine sections with more information on that historic period. For example, Politics from Camelot to Watergate contains these sections:
Topics range from the Stamp Act to the Trail of Tears to the Dred Scott Decision to the Harlem Renaissance to McCarthyism. An impressive amount of U.S. history is offered here in short, easy to follow, sections.
I browsed quite a bit of the textbook online in order to make sure it was well done and did not seem to be politically motivated. There are other free curricula available online that I have not shared in the past because they do seem designed to indoctrinate students more than to educate them.
From what I read, U.S. History seems to be well done and without these concerns. The authors seem to have attempted to write fairly from all standpoints. The curriculum does not seem to have an overt political agenda.
This is a great resource for American history. Students could do two units per week (with additional discussions, reading and notebooking) to cover the book in thirty weeks for a full credit of American History on high school transcripts. It could also be used for a great American History study in middle school years.