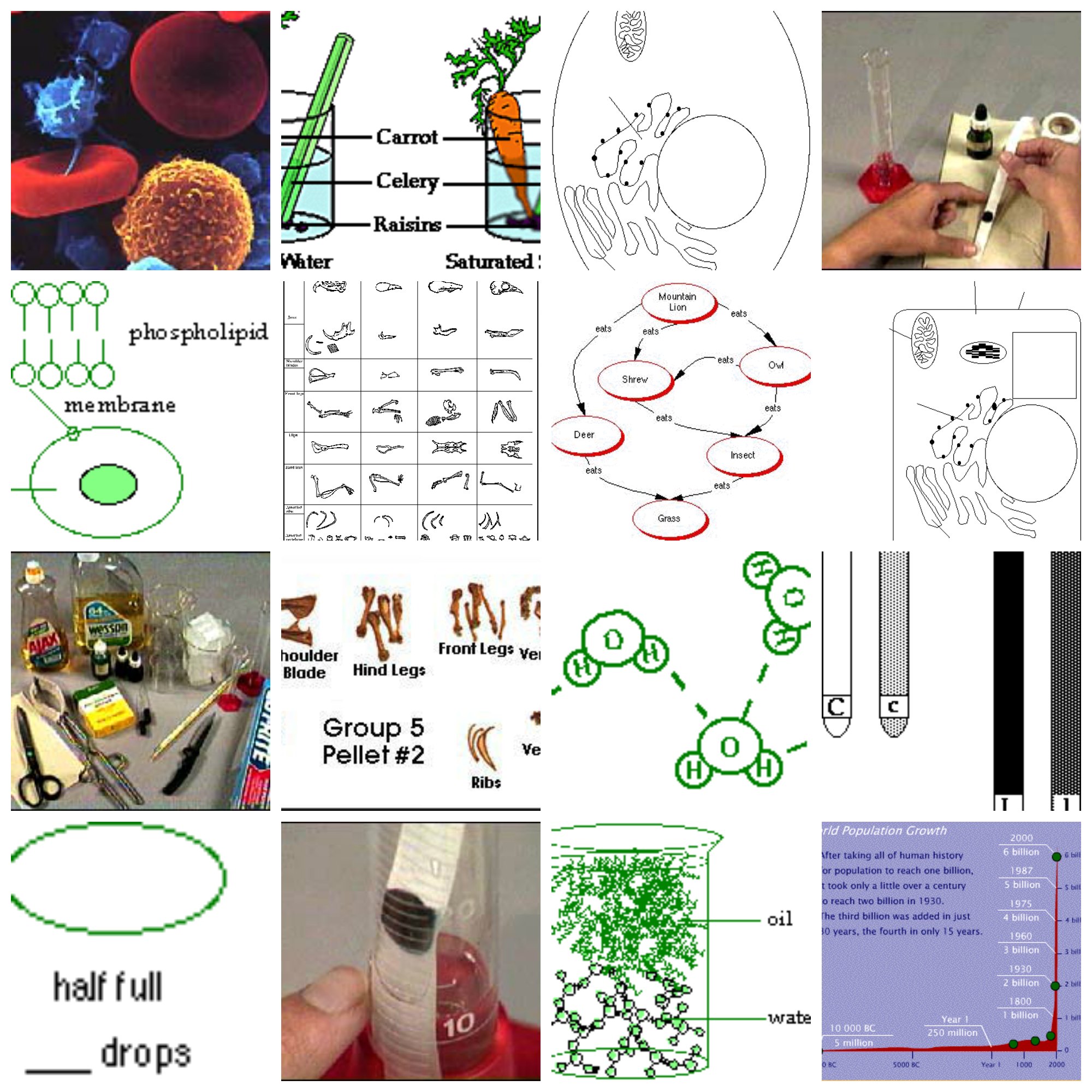 Here's another great free science curriculum that homeschoolers can take advantage of.
San Diego State University has developed a full curriculum of biology lessons for prospective or practicing teachers, complete with experiments, discussion questions, teacher guides, and more.
Note as of 7-17-14: The links to this curriculum are currently not working at the SDSU site. You can still access all of the content and download the files via the Wayback Machine. You can view the content for part one here and part two here, see the first lesson here and download the files here. Here is a site map to further explore this resource.
The curriculum is designed for teachers of grades K-8, but it can be adapted for the high school level.
The online biology course consists of two manuals, with multiple units in each:
Manual 1: Water and cells
1.1 Properties of Water
1.2 Elements, Atoms and the Periodic Table1.5 Osmosis
1.6 Pattern Matching (classes of organic molecules)
1.7 Cells
1.8 Mitosis
1.9 Text-Set-Go-Round
1.10 Invitations to Learn
1.11 Role Play Expert
Manual 2: Population Biology
2.1 How Does a Green Plant Grow?
2.2 Owl Pellets
2.3 How Do Species Interact in a Community?
2.4 How Do Organisms Vary?
2.5 How Do Organisms Reproduce?
2.6 How Do Populations Grow?
2.7 How Do Populations Change Over Time?
Each unit takes several hours and consists of multiple experiments and activities (with supply lists), discussion questions, objectives, background information, glossaries, supplementary resource lists, evaluation questions and more.
As an example of the experiments and activities, see lesson 1.1 Properties of Water. This consists of these activities:
Surface Tension & Adhesion
* Drop Behavior – Water on Penny
* Effects of Detergent
* Drop Shape on Glass and Wax Paper
The Climbing Property of Water
Cohesion of Water
* Water & Oil
* Oil & Water
* Water, Oil, and Dye
* Sheen
Class Summary
Organizing Your Knowledge
Each of these consists of resources such as step by step directions, charts to fill out, discussion questions and explanations along the way of concepts such as polarity, hydrogen bonds, surface tension, adhesion, capillary action, dissolving, density and so on.
Materials for the experiments include common items such as pennies, wax paper, cooking oil and a black pen, plus a few items you may have to purchase, such as chromatography paper strips and glass cylinders. Homeschoolers can easily adapt these materials and experiments, however. For example, you can substitute a coffee filter cut into strips for the chromatography paper strips.
The Teachers' Guide provides answers to questions that have been asked in the lesson and also offers some advice on the kinds of conceptions students are likely to have, the errors that students might be expected to make, and "strategies for promoting conceptual change."
While the course begins with a very simple set of exercises, it quickly introduces very advanced topics in clear ways that can be easily understood by multiple ages.
The site describes the lessons:
Lessons for teaching biology to prospective elementary school teachers will be posted at this site. These lessons were developed in a biology course (Natural Sciences 412C, Process and Inquiry in the Life Sciences) for senior Liberal Studies majors at San Diego State University. The lessons can readily be adapted by practicing teachers for use in elementary school classrooms. They require simple materials.
Schoolzone Educational Ingelligence of Great Britain says of the curriculum:
An excellent US-based site with many links for each of 8 topics… Though entitled 'Biology', much of this would be taught within other areas of KS3/4 science in most UK schools. Each topic has wonderfully-detailed lesson plans, question-sheets etc and has 'all you need to know' to teach an excellent series of lessons! Recommended!
The site is fairly self explanatory, with no frills. It can easily be adapted for a wide range of ages and would work well in a homeschool setting with several ages of children.
The curriculum can be viewed online or downloaded as zip files for Mac or Windows.
This is an excellent course that can provide kids with a great, basic understanding of biology.
***
Want to support our site?
You deserve it, and it will help us out.
It's a win-win!   😉 
This site is an affiliate for Amazon.com.  Purchases made through this link will earn us a small commission, at no extra charge to you.
***
This article originally appeared on examiner.com