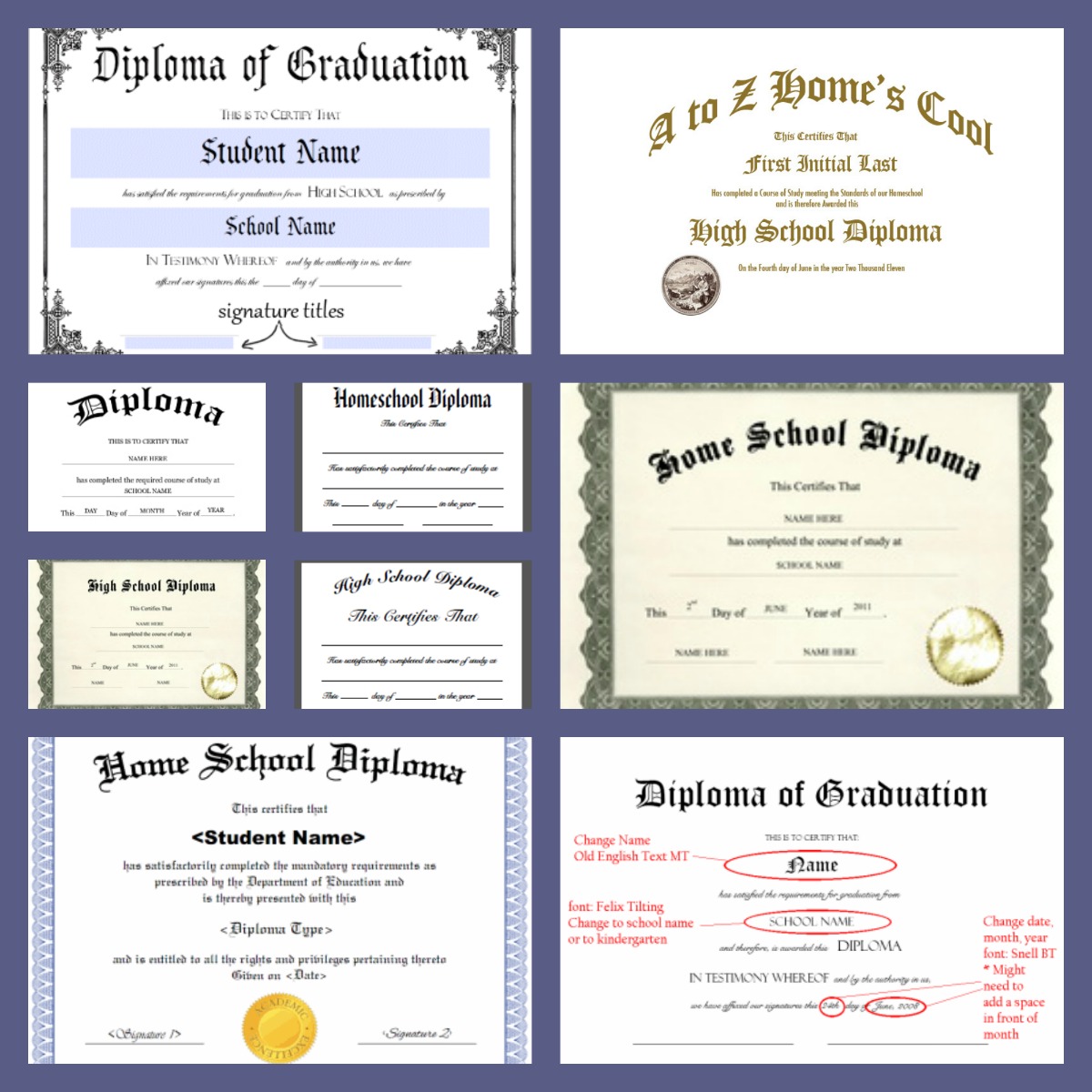 There is a lot of confusion in the homeschool community about diplomas. Many parents believe their children will have to apply for a GED or even transfer to high school at the end of their schooling in order to get a "real" high school diploma. However, this is happily not the case.
Yes, your homeschooled child qualifies for a diploma after completing the high school years. And yes, this is a "real" diploma.
You can purchase homeschool diplomas online from many sites, but you can also just easily create your own with free templates available online.
Here are some of the best.
My Certificate Templates offers a standard homeschool diploma form that says "Home School Diploma." Several fonts are available.
Let's Homeschool High School offers four free diplomas. Two say "High School Diploma" on top and two say "Homeschool Diploma."
Free Diploma Templates offers three forms for homeschoolers that say either "Diploma," "High School Diploma" or "Home School Diploma" on them.
A2Z Home's Cool has a diploma that uses a Photoshop template that can include your state's seal or the graphic of your choice. This one has your homeschool name on top and "High School Diploma" under your child's name.
Each of these diplomas has a space to list your school name. Some homeschool parents choose to use their family name as their school name, such as "Williams Homeschool Academy." Others name their homeschools using words, symbols or nearby locations. If you're unsure what to call your homeschool, A2Z Home's Cool has some good advice with lots of comments by readers who share their homeschool names.
Remember, the diploma is simply the piece of paper that says that your child has met the requirements to graduate from high school. In most cases, these are your requirements as the homeschooling teacher and not the state requirements for publicly schooled students.
The Home Scholar explains:
Homeschool law may NOT the same as the law covering public schools or private schools. In Washington State, for example, public school law is covered in one area, and homeschool law is covered in an entirely different area… When researching the laws in your state, make sure you are looking at the law that applies to homeschoolers. I frequently see homeschoolers trying to fit their homeschool into a public school law, and it just doesn't feel right. It's like the old square peg and round hole!
Check your state laws to find out what your graduation requirements entail for homeschoolers.
Individual colleges vary in terms of what documentation they require from homeschoolers, and the military has its own policies. Most colleges actively recruit homeschoolers these days and are more concerned with transcripts and test scores than diplomas. There are very few employers, colleges or other institutions who will require a copy of your child's diploma.
Homeschool Central points out:
The important thing is not the diploma, it is the TRANSCRIPTS. Colleges are not so concerned with diplomas as they are with transcripts, SAT's,and ACT's.
You can find more information about these issues at the following sites:
I have information about how to compile high school homeschool transcripts (in traditional and non-traditional ways) here.
Donna Young goes into more detail about how to determine your state's graduation requirements here. Note that her links go to the state requirements for public school students, however.
The HSLDA offers a thorough FAQ about homeschoolers and diplomas, along with information about military requirements, accredited schools and other issues here.
Whether your child plans to go into college, the military, directly into the workforce or in other directions, a homeschool diploma is a wonderful way to document the completion of homeschool.