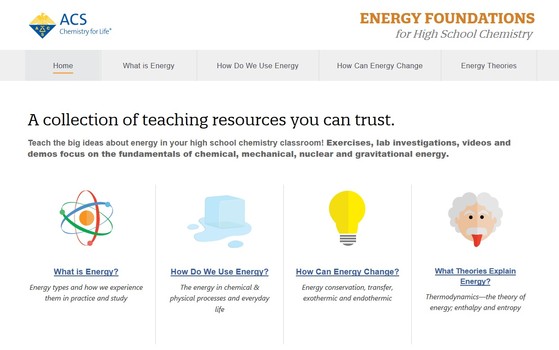 Here's another helpful science resource that's free online.
The American Chemical Society offers a free high school level curriculum on energy that contains lesson plans, handouts, experiments, video links and more.
The curriculum can be viewed online or downloaded as a 152 page PDF file.
ACS says:
Energy Foundations for High School Chemistry is a collection of resources that you can use to teach the big ideas about energy in your high school chemistry classroom. Featuring lab investigations, demos, student readings, and multimedia, it provides educational pieces that will support your existing curriculum.

Although the resources are organized into four sections, this is only one suggested way of stepping through the content. Please be encouraged to skip around and choose the pieces from each section that best meet the educational needs of your specific classroom. Likewise, the organization of resources within a section is meant only as a guide.Taken together, every piece of content is intended to be used à la carte, with sufficient flexibility to accommodate varying approaches and needs.
The curriculum is divided into four sections:
What is Energy? (Types of energy and how we experience them)
How Do We Use Energy? (The energy in chemical processes and everyday life
How Can Energy Change? (Conservation of energy and energy transfer)
What Theories Explain Energy? (Thermodynamics—the theory of energy)
The lesson plans include activities such as using different types of toys (wind up, electric, pop-up, chemiluminescent, etc.) to investigate different forms of energy and using a 9-volt battery, Epsom salt and a few other materials to demonstrate the hydrolysis of water.
Some experiments do require materials or chemicals that you may need to purchase from science supply sites, but most use readily available materials.
Energy Foundations for High School Chemistry was developed by high school teachers and the American Chemical Society. It is funded through a grant from BP, which may color how it handles topics such as sustainable energy. I did not notice any propaganda-like messages in a cursory look through the materials. (Some industry-sponsored materials do seem to cross the line into propaganda and I do not pass those resources along.)
The course should count for a half credit of science at the high school level, when supplemented with related resources.
***
Want to support our site?
You deserve it, and it will help us out.
It's a win-win!   😉 
This site is an affiliate for Amazon.com.  Purchases made through this link will earn us a small commission, at no extra charge to you.
***
This article originally appeared on examiner.com