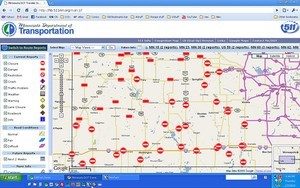 This article was posted from a hotel room a few years ago, when we were snowed in for a while.  Even without any curricula with us, we managed to work in lots of fun homeschooling.
This week we headed out of town for a couple of days and got trapped by the winter storm that's going on right now in most of Minnesota.  Our roads home were closed and no travel was advised, so our two-day trip turned into more.  We're holed up in a hotel with next to nothing that anybody would probably consider educational, but we're still surrounded by great ways to learn.
Here are some examples of ways we've been learning anyway.
The back page of the USA Today newspaper has a large, colorful US map of states for the weather forecast.  The states aren't named but many cities are listed in them.  I challenged my older kids to write the names of each state (or abbreviation), using the shapes and city names to help them figure out the harder states.
USA Today also has a money section listing current stock prices.  The kids have chosen a few companies each to invest imaginary money in and are checking each day to see if their companies are doing better or worse.  There are companies that they enjoy like Barnes and Noble, and they're learning a lot about the market plus also using simple math.
We stopped at a thrift store down the street and picked up some books, from an alphabet picture book about Germany to "Whose Feet are These?".  We got novels for the older kids.
Cable TV can lead to some interesting schooling, from watching a news program in Spanish to see how many words we can understand to a Food Network show featuring the White House garden and exotic veggies.
The front desk was happy to give each child a pad of paper and pen.  I gave one child some short division problems to do, one child art challenges ("draw a neighborhood scene on another planet– houses, cars, what the signs look like…") and wrote out a list of words (one misspelled in each row, for the child to circle the misspelled one) for another.
I brought along our current read-aloud book ("Write on Time: Utah") to read in the evenings.
We used the hotel pool as an opportunity to get a whole lot of PE in.
My husband had picked up an inexpensive used guitar and he looked up song lyrics and music online.  He taught our daughters simple chords to play a couple of their favorite songs.
The newspaper offers a wealth of other easy homeschooling ideas, from turning news stories into mad libs to having each child rewrite a short news story with as many synonyms to replace words as possible.
This just scratches the surface of all the ways we could work on everything from grammar to times tables from our little hotel room, and doesn't even go into all the possibilities via the internet.  It's great to know that kids really can learn anywhere, and with next to nothing at all.  Just the same, right now we're especially focused on meteorology and our chances of getting home soon!