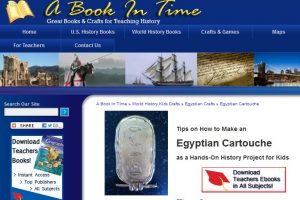 Have you been to A Book in Time? This wonderful free resource for homeschoolers helps history come alive through great book recommendations, games, crafts and more.
The site's founder, homeschooling mother Carol Henderson, says,
"A Book In Time first began years ago when I wanted my students to read some good history books along with our textbook, but was unpleasantly surprised at what a challenge it was to find them."
She goes on to say,
"A Book In Time is published here in order to direct you to the best books based on major historical people and events found in a typical school history study. Because I am a homeschooling mom, I have had the opportunity to teach almost all grades and almost the entire scope of history, resulting in a comprehensive selection."
The book list contains good book recommendations for different times in American history along with world history from ancient history through the present.
The craft section is divided into world crafts and American crafts, and features crafts such as building a Neuschwanstein Castle, playing the card game Guillotine, making Faberge eggs, folding paper dinosaurs, making a Chinese slat book, making an Incan foil tooling mask and playing a Gold Rush game.
A Book in Time also offers maps, online games, printables and timelines, along with a newsletter and lots more.
The site does feature far more ads and affiliate links than it did in the past, but there are still many gems to be found that can help bring history to life in your homeschool.