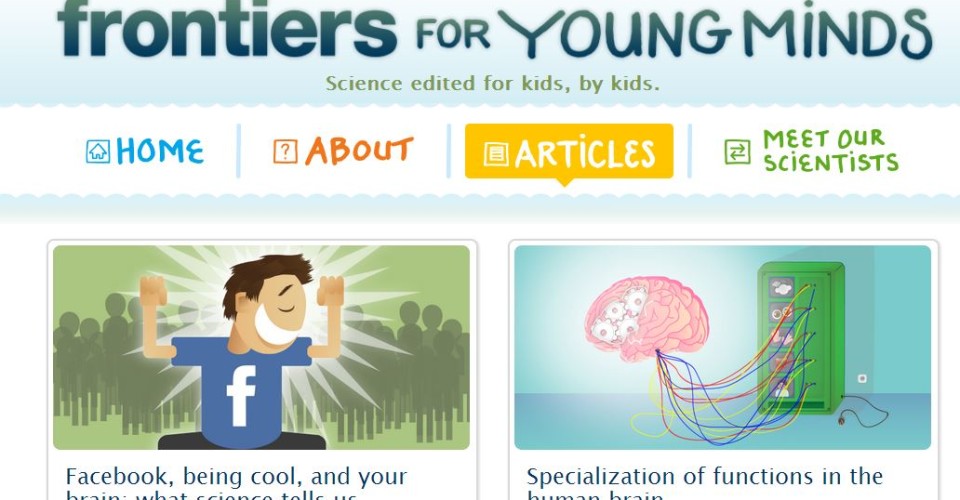 Here's an incredible new educational resource for kids. Frontiers in Neuroscience for Young Minds is a new web-based science journal that involves kids in the editorial process.
The site explains:
Frontiers in Neuroscience for Young Minds is a scientific journal that includes young people (from 8 to 18) in the review of articles. This has the double benefit of bringing kids into the world of scientific research – many of them for the first time – and offering active scientists a platform for reaching out to the broadest of all publics.

All articles in Frontiers for Young Minds will be reviewed and approved for publication by young people themselves. Established neuroscientists will mentor these young Review Editors and help them review the manuscript and focus their queries to authors. To avoid overburdening the young Review Editors, revised manuscripts will in turn be reviewed by one of the stellar Associate Editors of Frontiers in Neuroscience for Young Minds.
The free monthly journal will officially launch at the U.S.A. Science and Engineering Festival in Washington D.C. in April. There are already a number of articles online for kids to check out, though.
Some of the current articles include:
How do we see color?
The amazing history of neuroscience
Ever wondered what playing video games does to your brain?
The truth about a bird's eye view
Why sleep?
Do you feel lonely? You are not alone: lessons from social neuroscience
Seeing with your ears: a wondrous journey across the senses
Facebook, being cool, and your brain: what science tells us
Kids who are interested in taking part just need to contact the journal with a bio and a letter. Find more information about taking part here.
You can read more information about how the project got started and what it's like for one eight year-old to take part at CBS News.
This is an excellent resource for helping kids understand scientific topics, and a great opportunity for them to actually take part in the publishing process.
***
This article originally appeared on examiner.com.