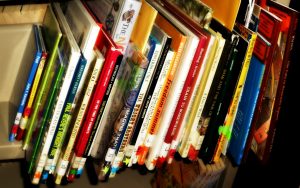 Here's a wonderful way to encourage kids to read and to really give them a challenge. Mensa for Kids has developed the Excellence in Reading Award that gives children and teens a certificate of achievement and t-shirt if they successfully read all of the books on their age-appropriate recommended book lists. Kids can even listen to the books read aloud or on tape to qualify.
The program is designed for readers at four reading levels and has a list of books (and sometimes short stories and poems) to be read for each level. Mensa for Kids points out that children should read according to their abilities, not necessarily their true grade levels. Children may listen to the books being read aloud by parents, listen to audio books or read them online, as well as reading them themselves. Each list contains an impressive variety of books.
The K-3 list contains over fifty picture books, poems and chapter books. Included are Freckle Juice, Strega Nona, The Girl Who Loved Wild Horses, The Snowy Day, Amelia Bedelia, Anansi the Spider, Winnie-the-Pooh, Aesop's Fables, Paul Revere's Ride, Alice's Adventures in Wonderland, A Child's Garden of Verses, and William's Doll, among many others.
The 4-6th grade list contains over fifty chapter books and story collections. Included in the list are My Side of the Mountain, Black Beauty, Misty of Chincoteague, Caddie Woodlawn, Hans Christian Anderson's Fairy Tales, The Complete Chronicles of Narnia, Mrs. Frisby and the Rats of Nimh, The Summer of the Swans, Betsy-Tacy, Little House on the Prairie, Swiss Family Robinson, Bunnicula and The House of Dies Drear, among others.
The 7-8th grade list contains over sixty novels and poetry collections. Included in the list are The Hunchback of Notre Dame, The Little Prince, A Wrinkle in Time, Roll of Thunder, Hear My Cry, Frankenstein, A Day No Pigs Would Die, Christmas Carol, Narrative of the Life of Frederick Douglass, Diary of a Young Girl, Robert Frost's poems, Little Women, Fahrenheit 451, Island of the Blue Dolphins and The Witch of Blackbird Pond, among others.
The 9-12th grade list contains over one hundred novels, short stories and poetry compilations. Included are Beowulf, Of Mice and Men, Uncle Tom's Cabin, The Lord of the Rings trilogy, Anna Karenina, Walden, Of Human Bondage, The Scarlet Letter, The Turn of the Screw, My Antonia, The Cherry Orchard, 1984, I Know Why the Caged Bird Sings, Wuthering Heights, To Kill a Mockingbird, The Iliad, Emily Dickinson's complete works and Moby Dick, just to name a few.
Kids are asked to print off the form for their reading level and then check off the books as they read them. They also assign a rating of up to five stars and fill in the date of completion. MENSA for kids stresses that the original form should be turned in, even if it is in bad shape.
Each child who completes a segment list will be awarded a certificate and may also request a Mensa for Kids T-shirt. Children are also welcome to complete other lists, as well. Mensa for Kids recommends that they begin at the segment list of their current reading level and then move forward or backward to complete other lists after that.
This is a wonderful way to give kids a challenge that the whole family can get into together, either working through the books at lower reading levels together or as independent goals. The reading lists are quite comprehensive and provide a rich variety of genres. In addition, the high school level list could easily provide credit for American and world literature, especially when combined with writing assignments and discussions of the books as they're completed. No matter how it's used, it's a wonderful resource for all ages.