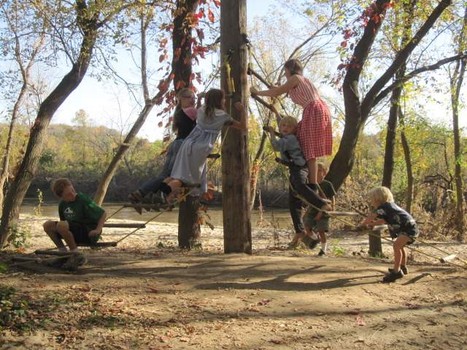 In today's society, it's not viewed as a good thing for children to be too active. They're supposed to sit still, pay attention, be quiet. School can be nightmarish for energetic, excitable kids.
It's easy to debate whether children should be diagnosed as ADHD or if we're simply not giving modern kids enough time to be active and expecting too much of them, too soon. Whether you're dealing with a child with a diagnosis or just trying to meet the needs of an energetic preschooler, the same tactics can help.
The good news is that kids in homeschool can learn in ways that truly suit their personalities and their needs — and be healthier for it.
Here are a few tips for homeschooling active children.
Aim for at least an hour of physical exercise per day. Try to get their heart rates up and kids out of breath. Their bodies were designed to work and it helps their minds work later.
Try to spend some time outside each day. This can be hard in states like Minnesota where we have such brutal winters. Even during the harshest weather, do try to spend at least a few minutes a day outside with the children. The benefits affect their health, demeanor and lots more.
Let them fidget while they learn. Some children really need to move in order to think. Give them things to hold while discussing a lesson. Let them build with LEGOs while listening to a book. This sort of thing will calm their bodies so they can focus their minds.
Let them do school standing up or on a chair ball (an oversized inflatable ball).
Work exercise into drills. Bounce a ball back and forth while spelling words. Have them count by fours or sixes while jumping on a trampoline. Make an obstacle course in the back yard with questions on index cards at each station.
Be aware of nutritional needs. Kids need protein and complex carbs for sustained energy, rather than the quick sugar rush they get from simple carbs like sugar and refined foods. Make sure they're getting enough healthy food throughout the day to avoid highs and crashes.
Pay attention to food triggers. Some children become hyperactive as a reaction to food colorings, chemical additives and other ingredients. Keep a food diary and see if you notice a link between overly hyperactive behavior and foods.
Find wide open spaces. Kids need areas where they can run, move, explore, be loud — be children. It's much easier to meet these needs outside but places like gymnasiums work well in bad weather.
Meet their sensory needs. Many types of physical input calm children. They need to work their muscles, for instance, and actually self-regulate their own brains by movements like rocking and swinging. Many children crave extra touch or weight and react well to massage, heavy blankets or holding weighted objects.
Turn down the noise. Many children react to overstimulating environments by trying to match them. Children may become loud and wild because they're overwhelmed by too much noise and chaos around them. Turn off televisions, lower your own voice and make surroundings calmer to help lower the volume on everybody in the family.
Watch the screen time. Studies have long shown a negative effect on behavior when kids get more than two hours of television and computer time per day. A new study says it's not enough to balance it out with more physical activity, that the screen time itself contributes to hyperactivity and behavior problems. While a little TV or internet time is fine, aim to replace as much as possible with activities like reading, art, puzzles, board games and time in nature.
Consider it a strength. Active, curious, excited children are a good thing. While we want our children to know how to sit still and be quiet when necessary, it really doesn't need to be necessary for the majority of their days. Active kids can channel their enthusiasm into building, experimenting, creating and learning. They can use their energy to stay healthy and in shape. We can view their distractability as a sign that they're passionate and interested about the world.