Looking for free Spanish resources for your homeschool?
Here's a roundup of absolutely free lessons, videos, printouts, games, curricula and ideas to teach your child (or yourself) Spanish, from the preschool level to high school and beyond.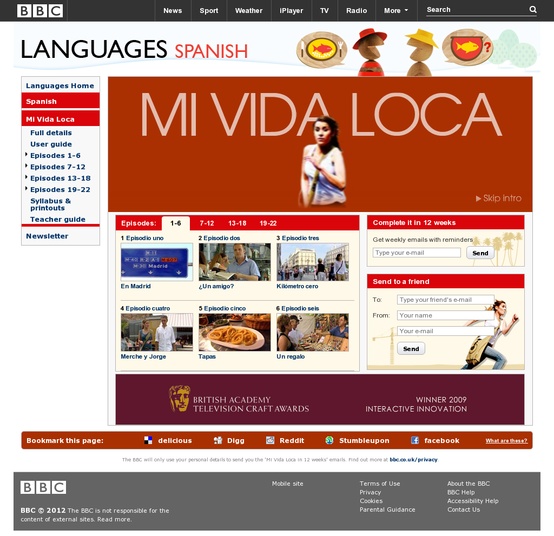 This online series from the BBC "takes you on an intrigue mystery adventure to Madrid and beyond in 22 episodes, 10 min each, covering basic learning points for Spanish absolute beginners." The course also offers a course certificate in 12 weeks, with weekly email reminders.
Salsa is Georgia Public Broadcasting's award-winning Spanish language series for young learners in kindergarten through the third grade. Puppets in familiar stories, digital graphics and animation teach the language.

There are 42 video lessons in the Salsa series. There are also fun interactive Salsa games for students to play.
This blog is a fantastic source of recommendations for free curricula, games and other resources. The author writes:
Teaching Spanish to my children while maintaining my own language skills. Featuring low-cost and free resources for those who are learning and teaching Spanish.
Visit this blog for many free printables, especially helpful for the elementary level.
SpanishTown.ca is full of free Spanish language learning materials for all levels and all ages.

Children learning Spanish will love our free vocabulary lists. Download them in PDF format for later reference.

Listen to the pronunciation of words and phrases. Virtually all of our introductory vocabulary has audio files that will let you listen to a native Spanish speaker pronounce the words and phrases in Spanish.

Have fun with crossword puzzles, word searches or matching activities. Check back often as we are always adding new ones to the growing list.

Teachers are free to download and use any of our free Spanish language material in their classrooms.
The popular educational charity site now offers foreign language learning, including Spanish. Kids can click on the correct multiple choice answer to improve their vocabulary and also donate food to the hungry.
One of the more popular online language learning sites right now, Live Mocha has a lot of features that set it apart. With over 15 million members worldwide, one of the most interesting features of the site is the ability to communicate with other members in the language you're learning. This offers a unique experience, but care should be taken to protect children from inappropriate chats or messages. The site requires an adult to register children under 13, and users can control features such as chat settings.
The basic version of Livemocha is free.
Membership includes lots of free features: chat, flashcards, messaging, making friends, and more.

If you learn best with a structured language course, we offer both free basic and paid premium options.
Wordplay is a simple game that makes it really easy to learn and remember Spanish words and phrases.
This foreign language learning site offers an express version for free.
Hear the language spoken by real native speakers.
Read and see the language in its native form.
Write words and phrases for stronger recall.
Track and maintain your learned items with Byki's Intelligent Refresh System.
Unlimited access with no time or session limits.
And best yet, it's absolutely FREE!
This site offers dozens of children's videos in Spanish. The videos are the cartoon fairy tale type, and come in several parts to watch online. (Note: I have not previewed the videos and cannot attest to the quality of the episodes.)
This site offers:
a pronunciation tutorial with 50 lessons
a spanish grammar tutorial with lessons, quizzes, tests and audio drills
free membership that allows students to take tests, record grades and opt in (or out) of the site's newsletter
The wonderful Toad Haven blog also has a roundup of lots of fun ways to use games for language learning, plus lots of links to great resources.
Also follow the collaborative Spanish Learning Board on Pinterest for lots of great resources, blog posts, games and more.
¡Que te dieviertas!
***
This article originally appeared on examiner.com.