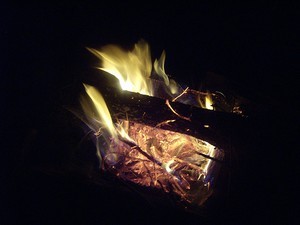 It's summer time and the perfect season for camping.  Why not add to the fun by doing a little chemistry with campfire coloring and experiments?
We tried a little campfire chemistry while camping with homeschool friends a few years ago.  It was such fun that afterwards we looked up other ingredients to add to really change the colors and cause better reactions, and we've been experimenting ever since.
Campfire Dude has a chart of ingredients that can be added to campfires to turn the flames all different colors and cause other special effects.
Some of the ingredients that are the easiest (and cheapest) to come by are:
Epsom salt to turn flames white
Alum to turn flames green
Potassium Chloride (water softener salt) to turn flames purple
Sprinkles of sugar can cause tiny spark effects
Powdered coffee creamer can cause "small sparkly flashes"
The site also includes a recipe to make slow-burning wax patties with these ingredients for a longer lasting effect.
Campfire Dude offers the following commonsense warnings:
It's important to do these only after all cooking has been done on the fire and when there is little wind so the smoke can rise up rather than into campers' faces.
Obviously, parents should use utmost caution and perform these experiments with care.
Have fun!
***
This article originally appeared on examiner.com.