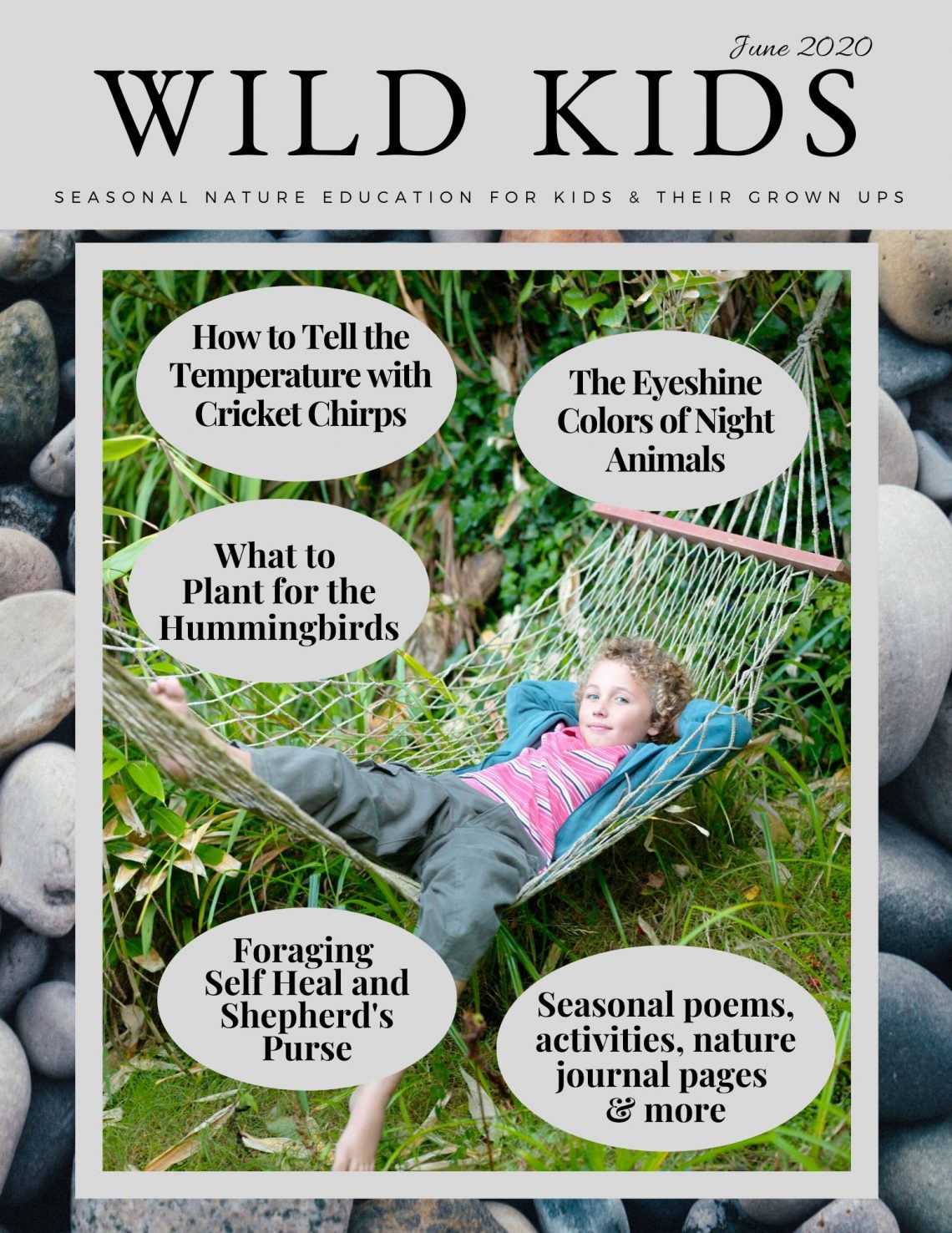 Wild Kids Magazine for June 2020
Happy June!
Here is this month's edition of Wild Kids Magazine.
We have lots of fun stuff for you to do this month, even if you're at home full time. There's information on identifying night animals by the colors of their eyeshines (reflections of their eyes), plants to bring hummingbirds to your yard, the formula to tell the temperature by counting cricket chirps, foraging info on shepherd's purse and self heal, ways to have fun with nature (even at home), seasonal poetry, a June phenology wheel and much more.
As always, it is 100% free to read online or print out.  This month's issue is 18 pages.
My son Jack and I are still recovering from our illness (we're doing well) so I put this together in a pretty short time period, but I tried to find some neat stuff to share with you all.
I hope you're safe, healthy and able to spend some time outside with your family these days, one way or another.  Even balconies, rooftops, sidewalks and sunny windows can offer a bit of nature to make the day better!
Here are some links to help you learn more about this month's topics.
Foraging Self Heal
Julia's Edible Weeds has wonderful information on foraging and using self heal.
Edible Wild Food has great ID information and more to learn how to forage self heal safely.
The Herbal Academy has wonderful information on three ways to use self heal medicinally.
The USDA has a great PDF fact sheet on self heal's names, habitat, uses, where it grows (everywhere!) and more.
Foraging Shepherd's Purse
The Homesteading Hippy has a wonderful post with ID information and tips on eating shepherd's purse.
Foraging Texas has great ID information, habitat ranges and more to forage shepherd's purse.
Very Well Health has thorough information on the history of shepherd's purse for health remedies, along with contraindications and instructions for using it fresh and in teas and tinctures.
Plants for Hummingbirds
HGTV has good information on plants to bring hummingbirds and more.
Have a safe, healthy wild month!
Please follow and like us: