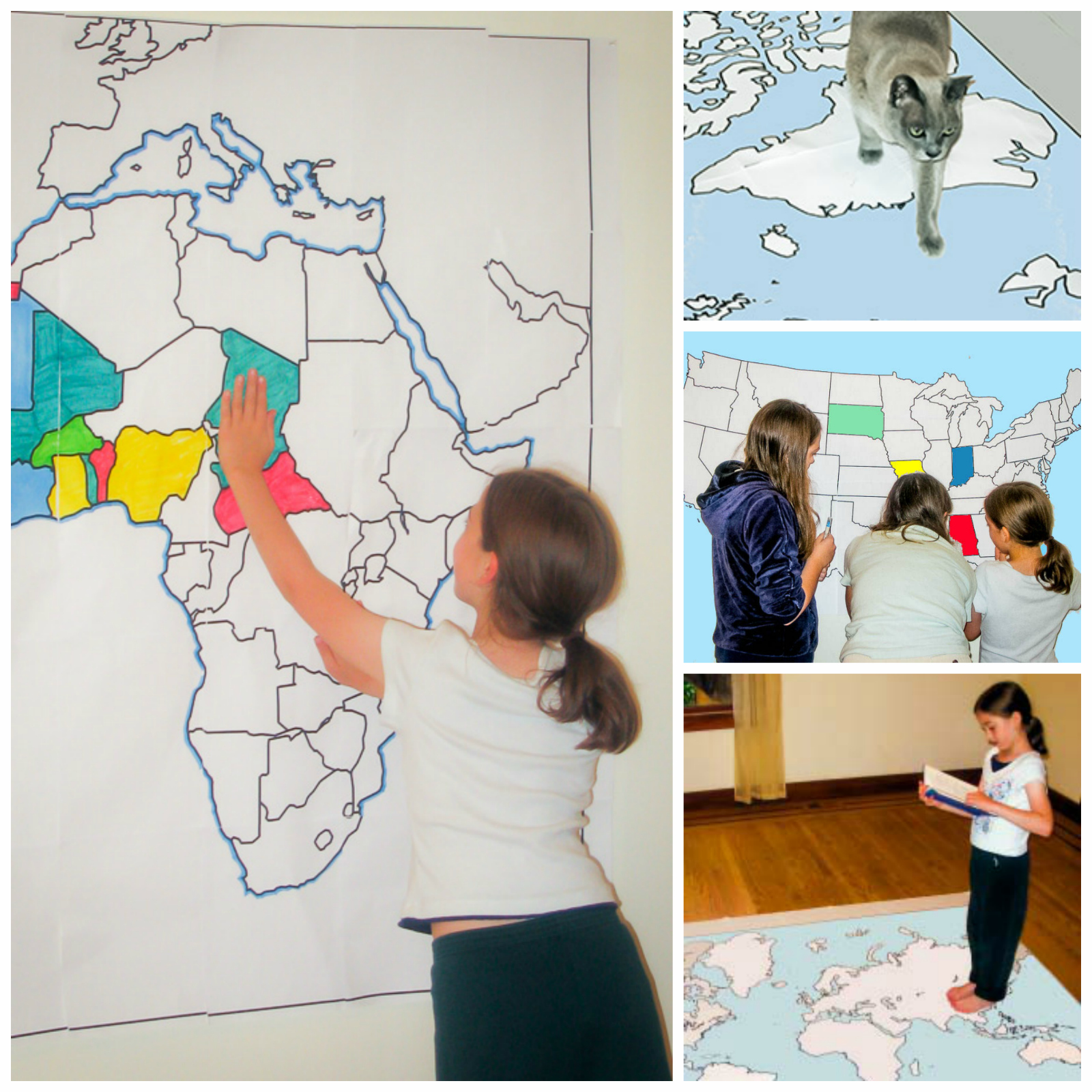 Here's a wonderful way to help kids learn geography. Owl and Mouse offers a huge assortment of maps of all sizes — some over six feet across! Best of all, you can print them all out for free.
Owl and Mouse says:
Print out maps in a variety of sizes, from a single sheet of paper to a map almost 7 feet across, using an ordinary printer. You can print single page maps, or maps 2 pages by 2 pages, 3 pages by 3 pages, etc. up to 8 pages by 8 pages (64 sheets of paper; over six feet across!).
The maps include multiple map choices for:
Europe
Asia
North America
Central America
South America
Middle East
Australia
United States
World
and more!
You can print the maps out on one sheet of paper or as many as 64 for a giant map that you can hang on the wall or tape to the floor for geography fun.
You do not need to install or download anything. You simply choose your map and how many pages large you'd like it to be, and hit print.
Some examples of ways to use the maps in your homeschool include:
Color in states that you have visited or have loved ones.

Print out various countries and put them on the floor, then call out country names and have kids hop to that country.

Print out a multi-page map of the US or the world, and have groups of students assemble it together like a puzzle.

Put a large world map on the wall and have the kids color and label it with country names.

Play "pin the tag on the country" — blindfold kids and spin them around with a post-it note in their hands, and have them stick it somewhere on the map. When they remove the blindfold, they look to see where they placed the post-it and ID that area. They get a point if they can name the country.

Print out single-page countries to use in lapbooks and homeschool notebooks.
Owl and Mouse also suggests this great idea:
Outline maps can be made to show political, environmental, physical, economic and historical information. Make multiple copies of a map, and students can show different features of the place on the map—historical events, physical/geologic features, land use—urban, farm, suburban, etc. political—states, borders, capitals, family histories, wildlife, habitat, types of environment—grassland, forest, agriculture, changes in one place over time and many more.
Have fun!
***
Want to support our site?
You deserve it, and it will help us out.
It's a win-win!   😉 
This site is an affiliate for Amazon.com.  Purchases made through this link will earn us a small commission, at no extra charge to you.
***
This article originally appeared on examiner.com
Save