Looking for a good quality, open-ended world geography for your kids? Barbara McCoy of Harmony Art Mom offers a wonderful 36-week world geography curriculum online, absolutely free.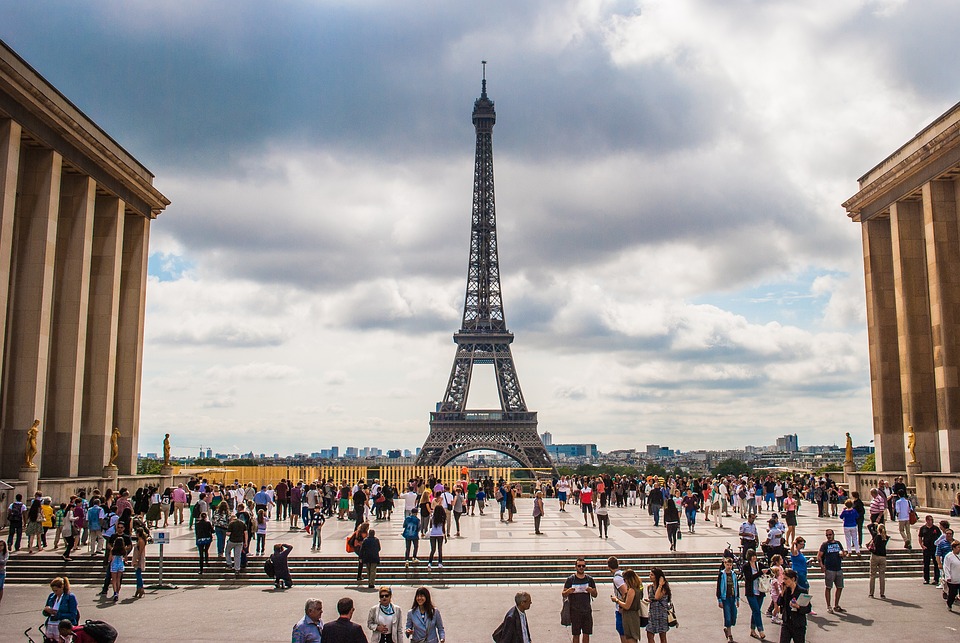 Harmony Art Mom's World Geography Plans (PDF) is a 48-page, in-depth weekly curriculum that aims to teach a broad overview of world geography, culture, world religions and current events.
The curriculum is designed for the high school level but it can be easily used for just about any age.
Each week covers a different country or region, and contains assigned reading, recommended videos, online activities, art and writing assignments, and more.
The plans revolve around weekly reading, with open-ended choices for the books used. One convenient element of the plan is that while specific books are recommended, you're free to use any books that are available on each region. The author explains:
For each country we used books from the library but on each of the weekly plans you will see reference to the Enchantment of the World series. If you have those at your library they are a good resource but you could just as well pick any book that is up to date and easy to read through in a week.
In addition, the plans call for the use of many online resources. These include:
Using Google Earth to "visit" each country.
Using Flashcard Machine to memorize many of the world's capitals.
Writing essays assigned throughout the year.
Creating notebook pages for notes and summaries.
Creating a display board of one country at midterm.
Cooking regional recipes.
Watching videos on Netflix to expand on studies.
Plus many others.
The curriculum includes links to flash card sets, online resources, books, Netflix recommendations for all 36 weeks, and much more.
Students work through their studies on their own, with much time for discussion throughout the week with the homeschooling parent and siblings who are also using the curriculum.
The curriculum is written directly to the students, with additions like this one (from the directions on using Google Earth):
Note from Mom: Each week as you learn about a country, explore it. Look at some of the cities. Look at the countryside. Try and figure out what the climate must be like by looking at the pictures. See if there are any pictures of local buildings to look at or local businesses linked. Note any physical features of the land that are interesting, etc. You may also want to click on the linked Wikipedia articles of interesting features or read some of the information and atlas entries that come with some of the pictures. Also, if you click on layers on the left hand side, you can even see videos of specific locations if you click on "featured content".
As an example of a weekly plan, the assignments for week 7 (France) include:
Read from Hungry Planet p.124-131, France: Enchantment of the World (Complete the notebook page in your binder), and Free the Children Chapters 13-14.
Explore France on Google Earth.
Work on learning European Capitals with the Geo-puzzle and globe.
Play an online French Numbers and Colors game.
Continue working on memorizing the Europe map and capitals for a test in week 9.
Watch Rick Steves: France and Benelux or Globe Trekker: Paris.
Continue working on Europe chart due week 8.
Pick a French recipe to cook together.
Art: QuickSketch Eiffel Tower.
Geography Notebook: Make a notebook entry for the Eifel Tower.
Writing assignment: Research a trip to France. Pick three places you would like to visit. Write your results in a five paragraph essay.
As you can see, this makes for a rigorous high school curriculum but it could also be pared down for any age range in the family.
The plans also include occasional humor, such as this assignment for the week covering Greece:
Make the Parthenon out of paper
(just kidding….hehehehe)
This is a fantastic resource for homeschoolers of all ages. If you do purchase any of the suggested books, doing so through her links will earn her a small commission as thanks.
Updated Link:
The lesson plans are no longer on her site but are still available through the internet archive here.  Keep in mind that some links may no longer work, but it's still a wonderful resource!