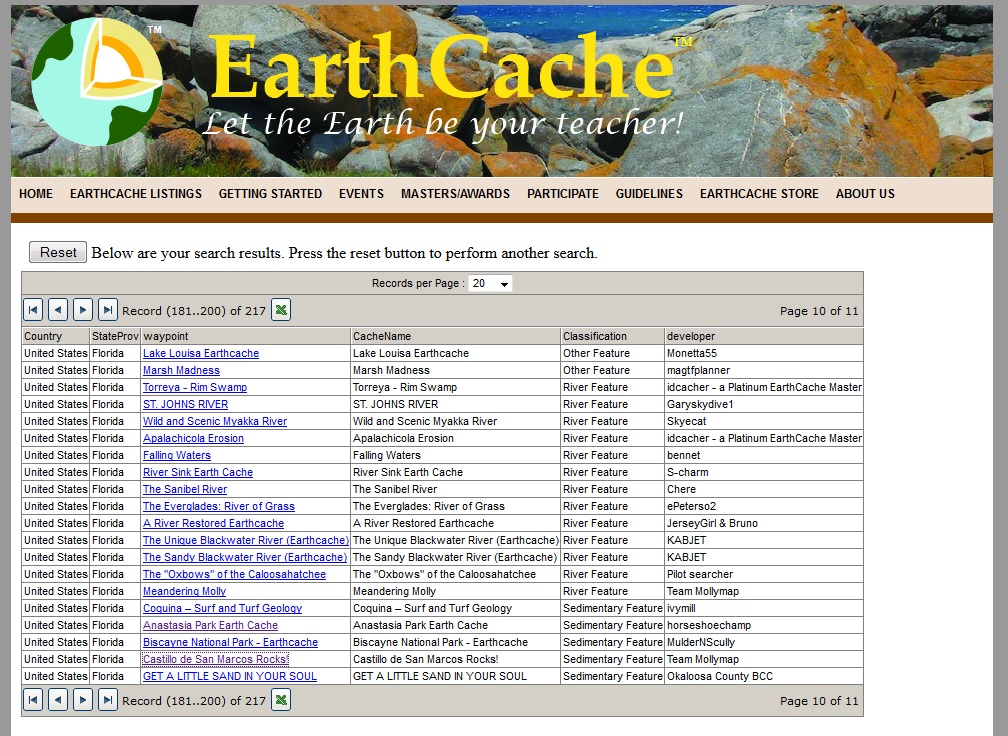 Looking for a fun way to teach earth sciences, navigation, map skills and more? EarthCache combines all of these with field trips in your area (and around the world) to create educational adventures for the whole family.
EarthCache was created by the Geological Society of America. They explain:
How is an EarthCache different from a virtual cache?

EarthCaches are in effect a type of virtual cache. They have no physical container or log book. However, EarthCaches are different from other virtual caches in so much as they teach the visitor something about the site. An EarthCache is not just a scenic view or a locality. They present some lesson on how that place formed, about why that place is important scientifically or what that site can tell us about our planet.

Why do EarthCaches have to be virtual caches?

The object of an EarthCache is to learn something about our planet. The reward is the lesson, not the trinkets in the container. Also, many EarthCaches are being developed in places where it is against the law to leave a container, such as in National Parks and at Geological Monuments.
The site contains almost 7,000 EarthCaches just in the United States!
This is a wonderful way to find comprehensive science plans for sites all around your area, and to find ways to incorporate science into your travels with your kids.
To participate, find an EarthCache you want to find and read through the assignment. Then find the site, find the answers to questions or otherwise determine the information required, and log the visit (often with a photograph of your team, the GPS and/or site, such as this).
The site also has additional educational resources for teachers. There is a FREE teachers guide to introduce EarthCaching to your kids. Learn how to create your own EarthCaches, direct students to creat EarthCaches or use exisiting EarthCaches in your classroom. You can download the whole document or by sections.
Kids (and adults) can also work towards different discovery awards (such as finding more than 50 geocaches) and master levels (such as visiting and logging three or more EarthCaches in two or more states/provinces/countries), and can purchase pins or patches at the online store for a small cost.
While the site says that you need a GPS to find the caches, there are many that require no special equipment. For instance, I found this incredibly informative EarthCache hunt about agates in Minnesota that directs participants to the Moose Lake Agate and Geological Interpretative Center located inside Moose Lake State Park. Coincidentally, our family visited this interpretative center just last month on a trip to Duluth. It sure makes me wish I had known about this site in advance!
There are so many things that are learned at various sites. For instance, at another Minnesota EarthCache, the Big Spring EarthCache, you are asked to test the pH of the water coming from the cave and email the answer to why the water is either acidic or basic along with a picture of your team at the site.
Our family vacations in St. Augustine and we found wonderful EarthCaches in that area, including Castillo de San Marcos Rocks!, which teaches about coquina rock, the history of the Castillo de San Marcos fort, erosion, acid rain, the Matanzas River and more, and asks participants to answer these questions:
1- The Matanzas River (seen east) of this location covers the Anastasia formation between Anastasia Island (seen southeast) and the mainland. After the coquina to build the fort was quarried from Anastasia Island it was floated across the river to the fort. What is the width of the river from the fort wall to Anastasia Island?

2- What is the size and description of the small coquina rock wall section that sticks up from the moat at the coordinates?

3- What would you say is the main type of erosion that has broken down this small coquina rock wall (chemical, biological, or by humans)? Give your reasons why.

4- While standing at the coordinates you can see the scupper (water drain pipes) coming out from the fort. What type of erosion is happening beneath the drain pipes (chemical, biological, or by humans)? At the time of your visit how many drain pipes (give the actual #) on this entire North wall have this type of erosion?

5- What do you think is the biggest threat is to the overall stability of the coquina rock at The Castillo de San Marcos?
Each location provides information as to the level of difficulty and the type of terrain. There are sites that cover every level of difficulty and every type of science, along with links for resources and (in some cases) hints to help you find the answers.
With thousands of sites in states and countries all over the world, this is a wonderful resource to use while near home and on family travels.
Have fun!
***
Want to support our site?
You deserve it, and it will help us out.
It's a win-win!   😉 
This site is an affiliate for Amazon.com.  Purchases made through this link will earn us a small commission, at no extra charge to you.
***
This article originally appeared on examiner.com