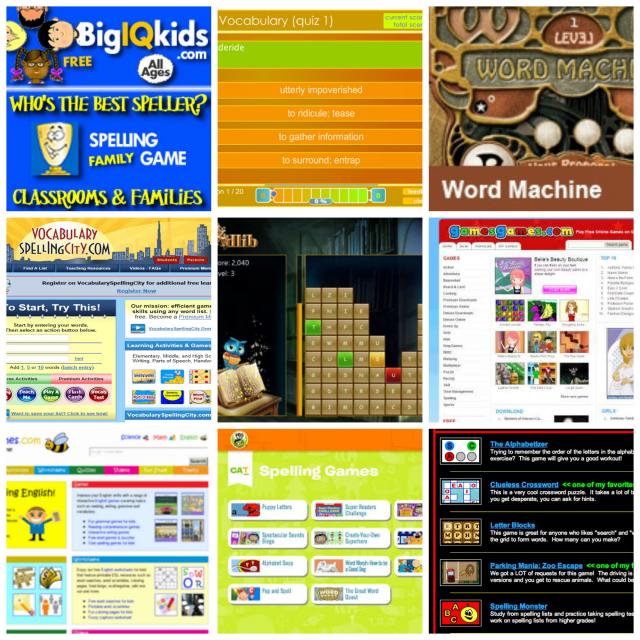 Looking for some fun games to help your kids practice their spelling? There are lots of great websites online that let kids of all ages hone their spelling skills.
Some let you incorporate your own lists, some offer extensive grade-level lists to choose from, and some just focus on fun.
Here's a round-up of some of the best.
PBSkids.org offers a nice variety of spelling games for kids that feature characters from their television shows, such as Cookie Monster, Clifford and Princess Pesto.
KidsSpell.com lets you choose from over 900 spelling lists for grades one through twelve, that your child can use in its online games. You can also create your own custom lists for the games. Games are sorted into easier, hard and hardest.
SpellingCity.com is another site that allows you to enter your own list of words for your child to practice, or your child can enter them herself. Once your child types in the spelling words, she can click on "test me" to hear the words and try spelling them. Your child can also play a number of free spelling games. Premium membership is also available at a cost for additional features.
Dictionary.com offers a number of fun spelling games for kids (and adults) of all ages like Miss Spell's Class and Adlib. These games are especially good for older kids and teens to practice spelling.
PrimaryGames.com includes a number of spelling and language arts games like Word Out, See 'N Spell, Wordo and more.
Quiz-Tree.com offers quizzes of frequently misspelled words. This is a simple to use site that also offers sight word printables and more.
Gamesgames.com offers a large assortment of spelling games that kids are likely to find fun, such as Bird Word Mahjongg and Word Link.
FunEnglishGames.com offers four spelling games for kids that involve scrambled letters, easy spelling and more.
Coolmath-games.com offers more than math games, with a variety of spelling games for younger kids.
BigIQKids.com offers free or upgraded memberships that feature spelling and vocabulary. You can use their word lists or create your own. Free options include daily lessons, games, spelling & vocabulary tests.
Note that some of these sites are ad-supported. Always preview sites to determine the suitability for your child.