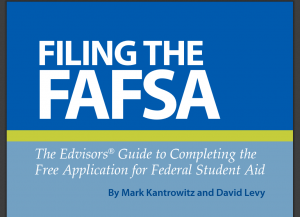 Here's a wonderful free resource for anybody with college-bound kids. The 200+ page bestselling book, Filing the FAFSA, is offered for free at edvisors.com.
Filing the FAFSA: The Edvisors Guide to Completing the Free Application for Federal Student Aid is by Mark Kantrowitz and David Levy, two respected experts in the college scholarship field with decades of experience.
The publishers describe the book on Amazon, where it is offered for sale at $9.95 for paperback (discounted from the usual $24.95) and on Kindle (currently at $7.52).
Every year, more than 20 million students and parents file the Free Application for Federal Student Aid (FAFSA), the gateway to federal, state and school financial aid. Families often worry about making costly mistakes, but this step-by-step guide provides expert advice and insights to:

Maximize eligibility for student aid
Avoid common errors
Complete the form quickly, easily and accurately
Ronald W. Johnson, Director of Financial Aid and Scholarships at the University of California at Los Angeles, recommends the book:
Filing the FASFA is a very informative, comprehensively detailed and instructive step-by-step guide to completing the FAFSA from start to finish. Filing the FAFSA presents invaluable information that is written in a very user-friendly, accurate, clear and complete manner that is not intimidating to the reader, but, on the contrary, will provide immense insights, understanding, and confidence to families when completing the FAFSA. Filing the FASFA further helps to define every entry within FAFSA on the Web (FOTW). It covers all the important elements of the financial aid process: how to avoid common errors, strategies to facilitate increasing eligibility for need-based financial aid, and other funding options to assist in covering college costs.
Filing the FAFSA: The Edvisors Guide to Completing the Free Application for Federal Student Aid is available for free at the Edvisors site in three formats:
ePUB: Compatible with many smartphones and eReaders (iPad, NOOK, Google Books)
MOBI: Native format for Kindle Fire, Kindle Readers and Kindle App
PDF: Can be opened on any device with Adobe Reader software
No personal information is required to download the book, and you do not need to register for anything.
This excellent book can help a great deal in demystifying the federal financial aid process.
***
Want to support our site?
You deserve it, and it will help us out.
It's a win-win!   😉 
This site is an affiliate for Amazon.com.  Purchases made through this link will earn us a small commission, at no extra charge to you.
***
This article originally appeared on examiner.com