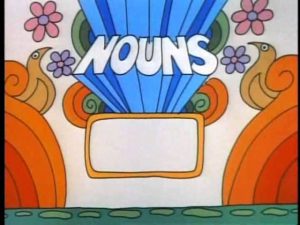 There's no need to make kids suffer through boring worksheets and lesson plans to learn their parts of speech. There are all kinds of fun ways to help them remember the names and functions of each one.
Here are a few wonderful ways to help kids learn nouns, verbs, adjectives and more.
Mad Libs: These have been used by parents and teachers for decades for good reason. Kids love to provide words to make up their own wacky stories, and it's an almost effortless way to memorize the parts of speech. You can find many mad libs free online or buy inexpensive books of them at stores like Barnes and Noble or Amazon. You can also make up your own with your kids, using poems, news articles or even excerpts of famous speeches or documents. Simple cheat sheets like this one from Scholastic can be handy to print out for them to refer to as they give their words.
DIY poems and stories: This is a wonderfully fun way to play with parts of speech. Cut some colored paper into small strips and assign a different color for each part of speech (nouns, verbs, adjectives, adverbs and injections if you like). Put each group of words in a bowl or small bag, and ask your child to pull out words to make up stories or poems. You can write out articles (a, an, the), conjunctions (and, but) and other helper words and phrases (such as "there once was") on white pieces of paper and use them to fill out the story as needed. Kids can also use the words to make up haikus. Remind them that haikus have three lines that are five, seven and five syllables long, and ask them to arrange the words to make up their own silly or serious haikus.
Posters: There are many colorful posters that you can print out for free online or replicate yourself. Hang these on the refrigerator or where kids will see them often, and it's a great way to accidentally memorize all they need to know. To help them remember even more, ask them to make up the posters. You can find great printable posters for free at blogs like EdGalaxy or Homeschool Days, plus many more if you search.
Junk mail highlighting: This is a fun way to help reinforce the parts of speech. Give the kids some unwanted junk mail and an assortment of colored highlighters, and ask them to highlight each part of speech (such as verbs, nouns and adjectives) with a different color. If you don't have highlighters, you can also have them underline each part of speech with a different color of crayon or marker. Remember to always use the same color for each part of speech (red or pink for verbs, yellow for nouns, etc.).
Schoolhouse Rock: This fun video series helped teach generations of kids their parts of speech through catchy songs like "Lolly, lolly, get your adverbs here." You can view them free on you-tube or on many blogs and educational sites. Here are all eight of their classic grammar videos.
A quick Pinterest search will show all kinds of other ways to make your own parts of speech games, manipulatives and more.
Have fun!