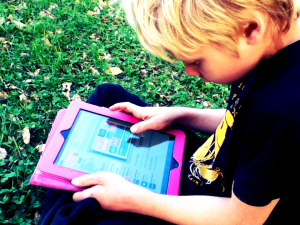 PBS LearningMedia classrooms has announced a great new iPad app for K-12 students that is absolutely free. Designed specifically for students in grades K-12, the app provides access to thousands of resources covering all subject areas, from math and science to English and social studies.
The PBS Student app allows kids to watch and learn with videos, games and images from PBS and PBS KIDS with resources such as NOVA, Daniel Tiger's Neighborhood and the Ken Burns collection, just to name a few. In addition, it gives students the ability to create storyboards, save images and resources, search by subject and much more.
The new app complements the PBS LearningMedia Student portal, launched earlier this year that is designed to create a "safe and trusted destination for students looking for content to help with homework or learn something new." PBS LearningMedia is also launching numerous innovative features enabling more opportunities for teachers to find, share and use digital content.
Alicia Levi, Vice President of Education at PBS, says:
Research has shown that our content impacts student achievement, and we are committed to making that content available to students wherever they are, whenever they want to learn. We are excited to launch this free app and offer students a fresh and easy way to explore and learn using digital media.
In addition to the PBS Student app, multiple feature enhancements and productivity tools are being added to the PBS LearningMedia service to help educators more effectively integrate digital media into the classroom. PBS reports that new features include:
Puzzle Builder: Create an interactive word search or crossword puzzle that can be printed or assigned to students as an online activity. Students can complete the puzzle on a desktop or touch-screen (mobile) device.
Quiz Maker: Develop an online quiz using any of the five options available: short answer, essay, multiple choice, fill in the blank or true/false. Educators can use this feature to drop into a lesson builder or to track student progress.
Lesson Builder: Combine digital resources from PBS LearningMedia with users' own content to build digital lessons. Users can add a quiz from the Quiz Maker tool and assign to students.
Teachers Build and Share Content: Educators can now use these productivity tools to build their own digital content and share it with other educators.
"Quick Assign": More easily assign or share any resource in the PBS LearningMedia Library. A unique Assignment Code will be generated for teachers to share immediately with students.
See what is happening: Explore the new curriculum calendar and events guide to find resources and access free professional development events and trainings.
The PBS Student app may only be viewed from within the United States. This is due to restrictions on PBS's license to offer this service. Note that it also requires iOS 7.0 or later, meaning that families with older iPads that cannot run iOS 7.0 will be unable to use the app.
PBS LearningMedia says that they will continue to release additional content and resources for teachers and students throughout the school year. To sign up for a free account and begin accessing the more than 100,000 digital resources aligned to national and Common Core State Standards, visit pbslearningmedia.org.