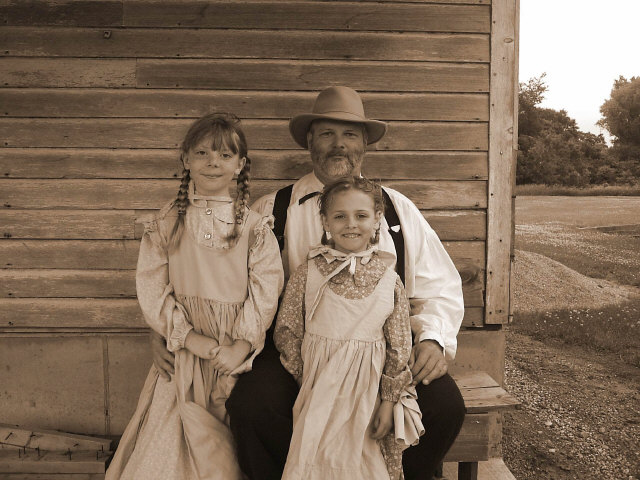 Are your kids Little House on the Prairie fans? There are all sorts of wonderful resources on the internet to help use the famous book series by Laura Ingalls Wilder in your homeschool.
Here's a round-up of some great sites.
~ Laura's Prairie House has lots of hands-on activities, printables and recipes, plus much more. One particularly interesting section is the researcher's corner, where visitors can read actual marriage announcements, obituaries and other clippings of interest about members of the Ingalls and Wilder families. This is a can't-miss site for Little House fans.
~ The Herbert Hoover Presidential Library offers lots of Laura Ingalls Wilder activities, lesson plans and printables for kids and teachers. There are some wonderful resources here, such as printable templates to make your own pioneer town (complete with information about how much things like hotel stays and meals would cost) and an online Little House counting book.
~ Marine Corps Nomads has made up free lapbooks on many of the Little House books for Homeschool Share. They include: Little House in the Big Woods, Little House on the Prairie, Farmer Boy, On the Banks of Plum Creek, By the Shores of Silver Lake, The Long Winter, Little Town on the Prairie, These Happy Golden Years and The First Four Years.
~ Eclectic Education has a wonderful Little House Unit Study page on Squidoo that includes all sorts of Little House activity pages, printables and links.
~ Little House Books offers lots of activities for teachers and librarians, plus fun sections for kids. Examples include Little House recipes, word searches, crafts and extensive classroom activity guides for teachers.
~ Blanchard Elementary offers a large Little House on the Prairie page full of resources such as author sites, timelines, discussion questions, teacher resources, recipes, crafts, links and more.
~ Little House Teacher Guides has a very thorough series of lesson plans and resources that cover each chapter of four Little House books, loosely geared towards 3rd through 5th grade. The site contains chapter-by-chapter lesson plans in all subjects for Little House in the Big Woods, Little House on the Prairie, On the Banks of Plum Creek and The Long Winter. Subjects include math, science, language arts and social studies. Typical activities include researching the current value of the horses and ponies that Pa traded, observing the effect of hot and warm water on ice, and estimating the weight of an ox compared to a car, people and other objects and then finding out the actual weight. Note: not all chapters have been completed in the series.
~ Home Ed magazine offers On the Little House Trail, one homeschooling mother's account of visiting all of the home sites mentioned in the books with her family.
~ Mama Scout offers a wonderful blog post about Unschooling Little House on the Prairie. She writes:
On this particular morning, I woke up to 3 children dressed in their prairie garb ready for a day of pioneer school. We made biscuits from scratch (a rare treat around here) and ate them with the jam we had made last summer (our pioneer selves that is :). We then took a long walk mimicking Laura and Mary's 2.5 mile walk to school. We stopped at our lake (creek) to poke around and catch some minnows. When we returned home, each kid came to my store to buy their slate and slate pencil. Then we played school. They read to me from McGuffy readers, worked on penmanship, and figured arithmetic on their slates.
~ Chasing Cheerios has lots of sweet little Camp Laura activities archived that are wonderful inspiration for doing your own Little House activities.
~ Simple Homeschool has a Little House virtual tour of Laura's hometowns.
~ More miscellaneous printables and activities:
If you don't yet own all of the books, you can check them out of any library or get the set on Amazon or other online sites.  You can sometimes also find the books at thrift stores.
My own family feels a special connection to the Little House series, since we live near Walnut Grove and take part in its Wilder Pageant every year. This summer marks our family's thirteenth year acting in the pageant. All five of my children have acted in it over the years, as well as my husband (who has portrayed Reverend Alden, Doc Hoyt, Mayor Bedal and Mr. Kennedy). I highly recommend visiting Walnut Grove during weekends in July to see the pageant and enjoying the free family festival in the park every Saturday during pageant season.
This is just a fraction of the educational resources out there for homeschooling with the Little House series, but these are some of my favorites. If you have other resources you recommend, feel free to leave them in the comments.
Stay tuned for more Little House activities in the future!
This article originally appeared in my homeschooling column at examiner.com.
All of my writings from that column are being transferred here, free of those annoying pop-up ads and related articles! 
I am reposting hundreds of articles about homeschool freebies, lesson plans, educational games, unit studies, hands-on learning and more. 
If you're looking for a particular article and it's not posted here yet, drop me a comment and let me know.  I'll put it up ASAP!
This site is an affiliate for Amazon.com.  Purchases made through our links will earn us a small commission, at no extra charge to you.
Save