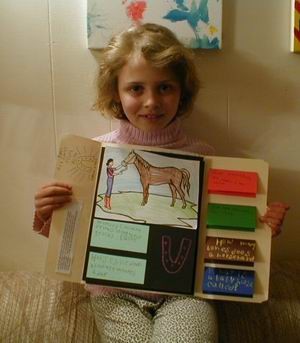 Recently, I shared information about what lapbooking is, how to find pre-made lapbooks and how to make your own.  Today's theme is what to do and what not to do, in order to make lapbooking work for your family.
Here's my list of Do's and Don'ts for lapbooking.
What not to do:
Start out with a huge project–  It's better to start small with a lapbook that can be assembled rather quickly and easily.
Micromanage– Remember, this is your child's project.  If you get bossy, your child is likely to lose any sense of ownership and dislike the process.
Try to make it perfect– It's easy to get caught up in the perfect pictures of lapbooks you can find online and want your child's lapbook to be suitable for framing.  This is not a work of art and it's not going on sale.  It's okay if it's sloppy and the pictures are sideways.  The main goals are for your child to learn, create and enjoy the process.
Force a child to do them or keep working that day– If your child gets tired or bored, put the lapbook away until another time.
Get hung up on what it "should" include or look like– Just because the example you found was 75 pages long does not mean your child's version needs to be!  Likewise, if you think she needs to include 20 vocabulary words on a tiny cut out airplane book for her Amelia Earhardt lapbook and she hates the idea, that's okay.  Chances are, she learned those words anyway.  Don't win the battle and lose the war.
Plan in too much detail– It's good to gather supplies, brainstorm on layouts and print out things that you think will be great additions to your child's lapbook.  Keep the planning loose, though, so your child can really be the one to design the lapbook.
What to do:
Let your child take the lead– The more creative control he has, the more likely he is to love lapbooking.
Work it around your child's style– Lapbooking can be personalized to suit your child and her style.  Whether she's perfectionistic, artsy, a computer lover or loves the color blue, one of the great things about lapbooking is that it can be tailored to suit each child.  For instance, if your child loves art, you can look for art-related images for your subject.  If he hates to write, work in a few small writing projects like copying a related quote but then offer to type up info that he narrates.
Start small–  Again, it's much better to start out with a small, easy project.
Tailor the amount of cutting and mini books to your child's level–  Some pre-made lapbooks contain a mind-boggling amount of cutting and construction.  These will quickly overwhelm most young children and most parents who are stuck doing hours of busywork, as well.  These books and add-ins can look appealing and can really jazz up a lapbook, but be careful that you don't go overboard.
Adapt it to suit your family and timetable– If you're doing a month long unit study on the Civil War, you may want to really go all out with a long-term lapbooking project.  If you just want to fill a Tuesday afternoon, then be all means go for something short and simple that can be finished in a couple of hours.
Let your child pick the subject at least half the time– One great thing about lapbooking is that kids can really learn no matter what the subject.  Look how much these families managed to learn with lapbooks about Disney World, flowers, Goodnight Moon (note that this one was made by the mother for young kids, which is another way to approach lapbooking) and cats.  We managed to work art, geography, social studies, multiplication, handwriting, vocabulary, laws, biology, measurement and more into a lapbook about carp.
Make it easy–   Have materials ready on hand, offer to help and have some elements pre-cut for younger kids.
Have great materials to make it fun–  The more creative elements you have available, the more your child is likely to love lapbooking.  In Mankato, look for cheap scrapbooking supplies at stores like Michael's and Hobby Lobby.  You can also get stickers, papers and other fun elements at the Dollar Tree, Target, Shopko and Walmart.  Set out unique art materials to allow them to personalize it more — adhesive papers, gel pens, you name it.  These will all help add to the creativity and fun.
The most important rule of lapbooking, though, is that there are no rules.  Experiment and have fun!