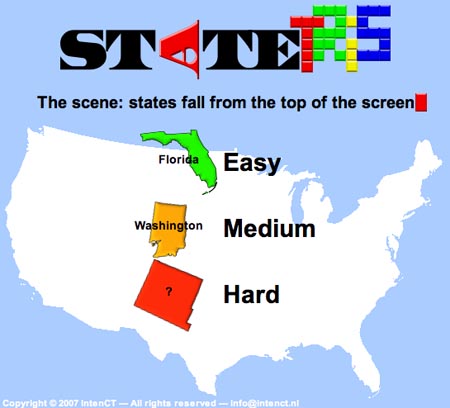 Here's a fabulously fun way for kids to learn their American states and world geography.
Statetris is a free online game that kids play just like Tetris. States appear and the player uses arrow keys to move them to the proper place on the map.
There are three levels: easy, medium and hard:
In the easy level, the states are named and are oriented properly (they don't need to be rotated to fit into the map). They drop from the top of the map and you move the arrow keys left or right to put them in their proper places. Tapping the down key repeatedly will cause them to drop faster.
In the medium level, the states are still named but they may need to be rotated. Use the up arrow to rotate them and then move them left, right and down to where they belong.
In the hard level, the states are not named and they may need to be rotated before being moved into place.
The game keeps track of your time (and your best time) and gives you as many chances as you need to get the states in their proper places.
If the state is placed incorrectly or oriented incorrectly, the player hears a "bong" noise and it scatters away. The same state is repeated often until the player finally places it properly. If the state is placed properly, the player hears a chime and it locks the state into place on the map.
There are also games for Africa, Brazil, China, Europe, France, Germany, Italy, Japan, Netherlands, the United Kingdom and South Carolina.
Statetris is also available as an iTunes app, where it currently sells for 99 cents. The app is not nearly as well reviewed as the free online game, though, and seems to have some bugs to work out.
The online game is free and works well. This is a great resource to help kids (and even adults) finally remember the locations of all of the states and to learn the geography of other parts of the world.
Have fun!
Want to support our site?
You deserve it, and it will help us out.
It's a win-win!   😉 
This site is an affiliate for Amazon.com.  Purchases made through this link will earn us a small commission, at no extra charge to you.
**
This article originally appeared on examiner.com