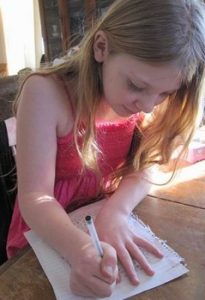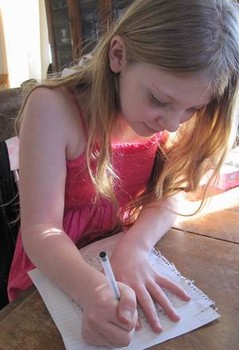 Looking for a creative way to jump start homeschooling or to just combat cabin fever?  Here are ten challenges to offer the kids.
Writing:
Write a short story about a superhero whose superpowers lead to accidental, funny consequences.
Write one page about the best or worst day you ever had.
Do free writing for 3 minutes.  That means you don't let your pen or pencil stop writing words even if you can't think of anything to say.  Set the timer and just write for the whole time.  You might be surprised with what you write!  You don't have to show anybody your free writing.
Math:
List 50 math problems that have 50 as an answer.  For instance, 60-10, 10+20+30-10, etc.  Be creative!  (For younger kids, list 10 problems that have 10 as an answer.)
Use index cards and art supplies to make some really fun flashcards to teach any math facts you have trouble remembering.
Use the change jar to figure out how many combinations of coins you can use to make 57 cents.
Photography:
Take a picture of something that starts with each letter of the alphabet.  The more unique the better!
Photograph 10 blue things in artistic ways.
Science:
Put together a wild platter for birds and animals outside.  Put piles of various things that you think they'll like (bird food, dried cereal, stale bread, orange slices) and guess which ones will be the most popular and which birds or animals will eat each. Put the platter where you can see it, and watch to see who visits.
Gather an assortment of safe liquids (such as water, rubbing alcohol, shampoo and vegetable oil) and put them in small dishes outside to freeze.  Make guesses first about which ones will freeze best.  Do you think any won't freeze at all?  Check them periodically and write down the results.