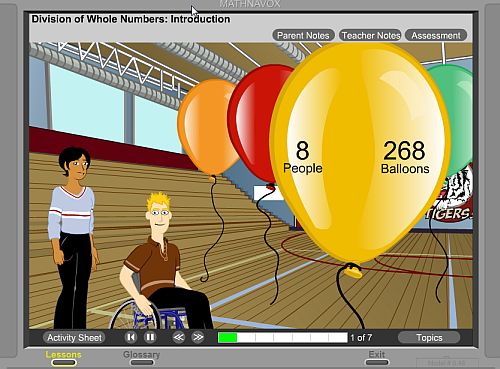 Here's a great resource for elementary and middle school math.
Math Live is a website developed by Learn Alberta to teach math in a fun way.
The online Flash-based application mimics a television set, with math lessons presented as cartoon episodes. Each one is filled with short, interactive segments to really reinforce the topics.
There are twenty-three lessons in all, which are divided into four categories: Number, Patterns and Relations, Shape and Space, Statistics and Probability.
Subjects include place value, proper fractions, patterns, polygons, area and perimeter, tessellations, volume, time, factors, primes, multiplication and division of decimals, estimating and much more.
Each animated lesson is accompanied by a worksheet that students complete either while watching the lesson or after viewing the lesson. Each lesson is divided into sections and students can advance or rewind as needed
The programs also include parent notes, teacher notes, activity sheets and assessments. A glossary gives even more information with images and animation, too.
Each lesson gives a very thorough explanation of its math concept, with lots of pauses and practice built into the steps.
This is a great way to introduce new math concepts or help kids understand them in a fun, interactive way.
Want to support our site?
You deserve it, and it will help us out.
It's a win-win!   😉 
This site is an affiliate for Amazon.com.  Purchases made through this link will earn us a small commission, at no extra charge to you.
**
This article originally appeared on examiner.com