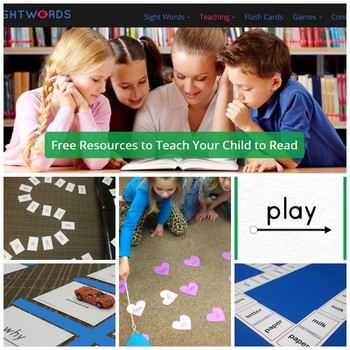 Here's a fabulous new resource for parents whose kids are learning to read.
Sight Words, a free website sponsored by the Georgia Preschool Association, offers a multitude of tools for parents, teachers and caregivers to help kids learn to read. The site says:
Sightwords.com is a comprehensive sequence of teaching activities, techniques, and materials for one of the building blocks of early child literacy. This collection of resources is designed to help teachers, parents, and caregivers teach a child how to read. We combine the latest literacy research with decades of teaching experience to bring you the best methods of instruction to make teaching easier, more effective, and more fun.
The website offers free flash cards, games, teaching strategies and regular blog posts about topics such as the neuroscience of struggling readers and avoiding winter reading loss.
The games include:
Bingo
Snakes and Ladders
Go Fish
Bean Bag Toss
Memory
Parking Lot
Fishing
Pathways
Fly Swat
Old Maid
Book Land
Dominoes
The lessons, which include detailed instructions and videos, include:
Teaching Strategy
See & Say
Spell Reading
Arm Tapping
Air Writing
Table Writing
Corrections
The flash card options include Dolch sight words for pre-k through 2nd grade, all one thousand Fry high frequency words (in sets of one hundred), blank flash cards, custom flash cards, and more.
The flash card sets are in PDF form and could be used on a tablet or other device to save paper. I would love to see the site offer more digital options in the future and will report back if those are added.
This is a great resource with wonderful tools to help kids of all stages of reading literacy.
I especially love the games section and plan to print out the pieces to play Fly Swat with one of my kids today!
***
This article originally appeared on examiner.com.