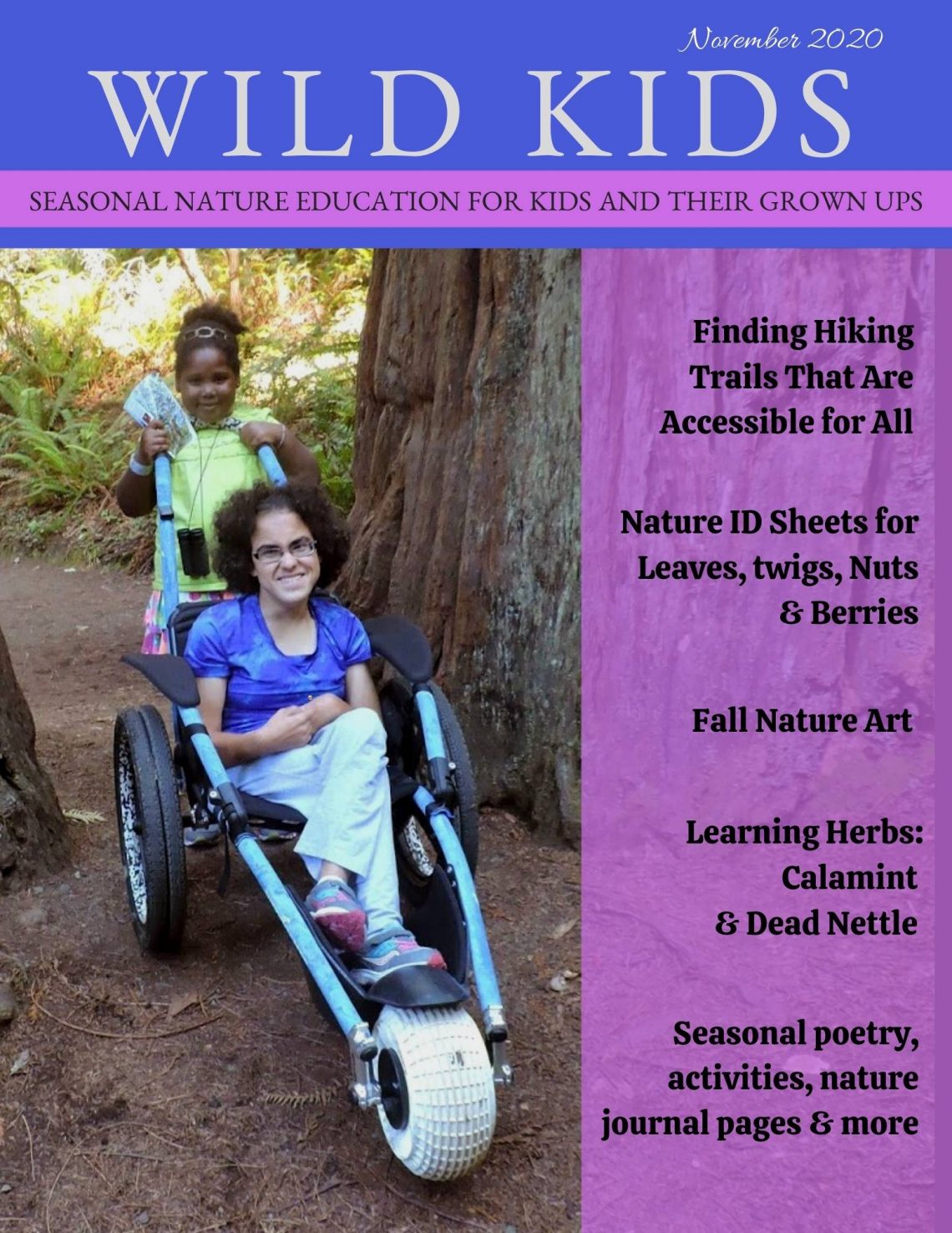 Wild Kids Magazine for November 2020
Happy November!  Here's this month's issue of Wild Kids Magazine.
Wild Kids Magazine for November 2020
In this month's issue, we have nature ID sheets (some common examples and sheets to make your own), information about finding accessible trails for everyone, herbal info on calamint and dead nettle, ideas for nature crafts and fun, plus all the usual seasonal nature poems, nature journal pages and more.
This month's issue is 18 pages and as always, it's ad-free and 100% free to read digitally or print out.
Feel free to pass it on to anyone who might benefit.
Here's a little bit of extra information on some of this month's topics…
Finding accessible nature trails
Trail Link has great information on wheelchair accessible trails by state and lots of links to more great resources.
Cerebral Palsy Guidance has great info on Enjoying the Great Outdoors with a Physical Disability.
Everyone Outdoors is a community resource for people with disabilities and their families in Massachusetts, but it has great information for folks all over.
For folks on Instagram, Outdoors for All is a great page that's always filled with folks enjoying the outdoors in all kinds of capacities.
Calamint
Notes from a Tuscan Olive Grove has information about foraging and using calamint in Italy.
Another Italian blog, Emiko Davies, has more information on cooking with wild calamint, along with a recipe for braised artichokes with calamint.
And Gardener's Path has all kinds of information on growing calamint if you can't find any, with lots of varieties to try.
Dead Nettle
Grow Forage Cook Ferment has wonderful information about foraging or growing dead nettle and all the ways you can use it.  She even has some free printable sheets you can sign up to receive!
The Morton Arboretum
has detailed information about identifying and growing dead nettle and
Gardenista
has great information and lots of photos of varieties of garden dead nettle you can plant.
Have a great November!
Please follow and like us: