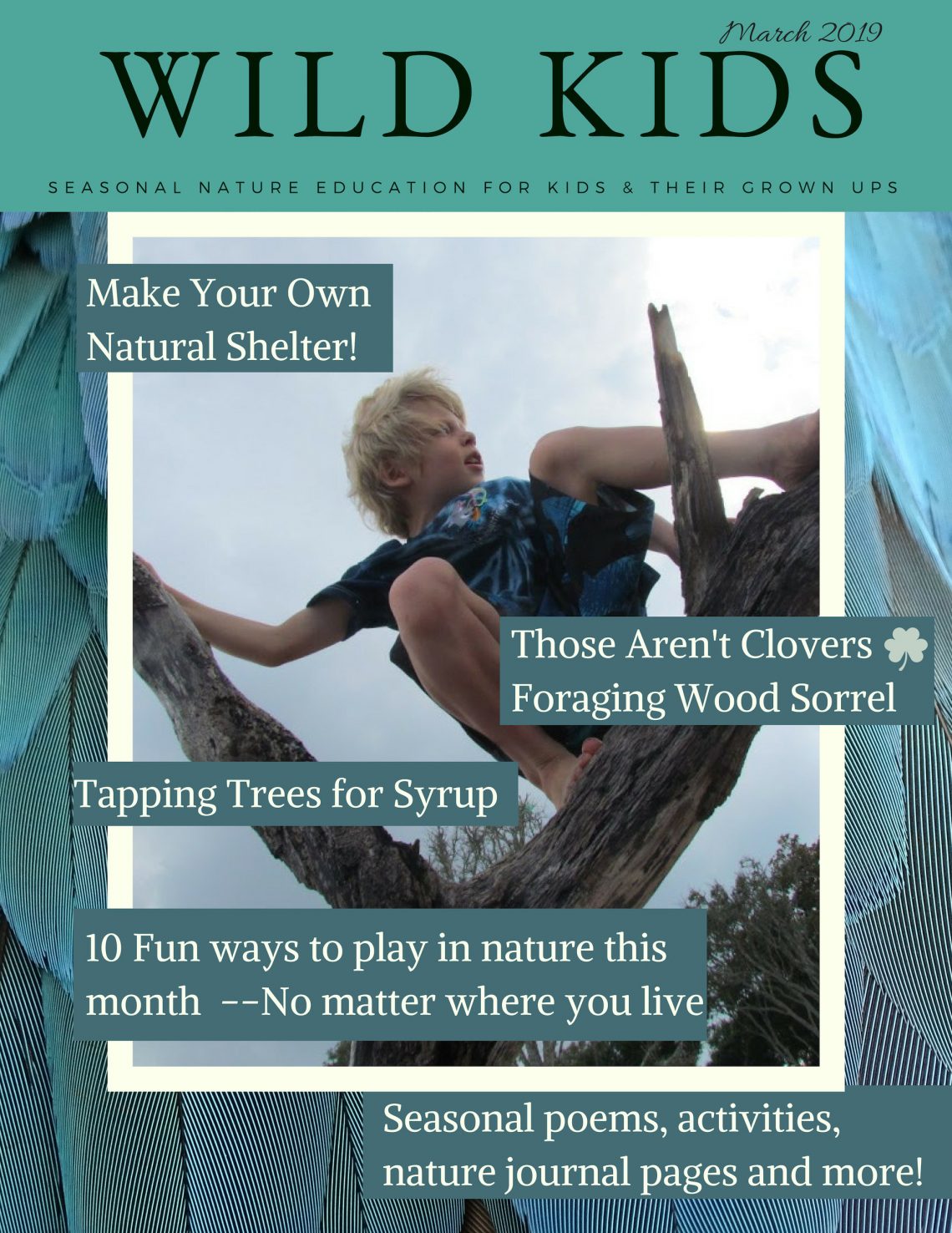 Wild Kids Magazine for March
Welcome to the March Edition of Wild Kids Magazine!
As always, the magazine is free to read online or to print out (it's in PDF format). This month's issue is 16 pages, which you can print double-sided if your printer allows it. It's in full color, with most of the nature journal pages in black and white.
Click here to download the March issue.
Here are some links to teach you more about this month's subjects…
Build an Easy Wild Shelter
My Kids' Adventures shows how to make a simple shelter and how to plan it ahead of time with toys and odds and ends.
Primal Survivor shows how to make several different kinds of easy shelters and has lots of fantastic pictures of examples that people have built.
And Mother Natured shows how they made a fun shelter with some very little kids!
Foraging for Wood Sorrel
Foraged Foodie has excellent information on how to ID wood sorrel and creeping sorrel, what other plants mildly resemble it, and more. Notice how many people in the comments say wood sorrel is the first wild plant they foraged and loved as children.
Foraging Texas always has fantastic foraging information even if you live far away from Texas.  They have great maps of the range (throughout North America and beyond), pictures of all parts of wood sorrel and lots more information.
Finally, find basic info and a recipe for Wood Sorrel on Lemon Curd at Foraging Guide
Maple Tapping (and other trees)

Updated CORRECTION:  The section on tapping trees said that other trees could also be tapped for their sap to make syrup, such as birch trees.  It should have listed box elder trees instead of elder trees.  Box elders and elders are two separate species of trees and shrubs.  Elders are shrubs and not trees, and should not be tapped for syrup.  The magazine has been corrected. This is what happens when I let my proofreader skip the job because he's under the weather!  ~Alicia
Some folks have written in and asked questions about Wild Kids so I thought I'd answer them here.
Does this come in magazine form? Would love a subscription for myself and friends' children.
I'm sorry, the magazine is printable so you can print your own copy for free (or read it online) but we are unable to mass produce them and send them out.  Remember this is just a volunteer project our family does for free!  🙂
If you would like it to look more like a store-bought magazine, here are some ways to help make it sturdier and more magazine-like:
Print it in color, on both sides of the page if possible.  If your printer does not do that, you can usually print pages at public libraries or copy shops very inexpensively.  Our little home printer prints in color on both sides and cost us under $60 (with ink!) on Amazon (affiliate link), so we print it out at home.
Put the magazine in a clear report folder.  That's what we do since our youngest child, Fiona, carries hers all over the house all month to color in her weather tree and update her nature journal.  🙂 You can pick these up inexpensively in office supply stores and discount stores, or you can order them at Amazon (another affiliate link!).
You can also just staple them on the sides or hole punch them and keep them in a binder.  You could even punch holes in the side, find a stick about the same length, and tie the magazine to the stick to make a rustic magazine.  The sky's the limit!
If you have your own way of preserving your Wild Kids Magazines, please leave them in the comments!
We live in Australia so the seasons do not match. Is there a way to receive back issues so we can absorb summer issues in our summer and vice versa?
We've just started so there are no back issues yet past January and February, but that would certainly work a little down the line. I do try to include all locations in as much as possible, such as the 10 ways to play with nature each month. If you look at the "Wild Kids Asks…" page on most months, there are answers and pictures from kids all over the world including the southern hemisphere. In February the question asks what kids like to do where they live in February and there are answers from kids in all different climates, for example. I also try to do foraging information that suits all different locations, like cattails (bulrushes) were featured in February and you can use them in all seasons.
I would love for people to send in their pictures and answers from all over so we can be the most helpful for the most people!
Have you got a mailing list to get next issues?
We've added a subscribe button.  At first, people were saying it wasn't working but I think it's working now.  Let me know if it doesn't work for you.
Have a wild month!
~Alicia
Please follow and like us: