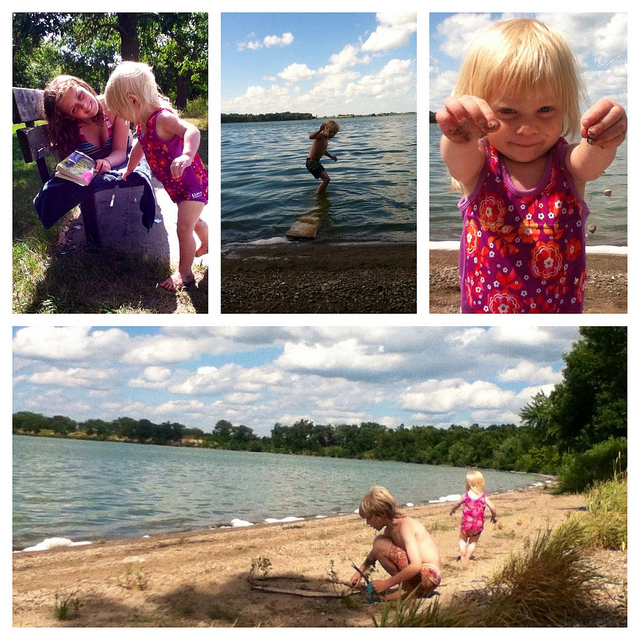 One of the great things about homeschooling is that you can do it in the ways that fit your family's needs. You can choose how to homeschool, what to use and when to do it.
That said, what's the best way to approach the summer months?
There are many good reasons to continue homeschooling through the summer months:
It avoids "brain drain" and having to review material all over again when you start again in the fall.
It can allow you to keep a slower pace all year, if you have twelve months to cover a year's worth of learning instead of just nine.
It allows for catch-up time for anything you didn't finish during the "school year."
In some climates, it may be too hot outside for the kids to spend much time outdoors.
Kids may want to continue learning, especially if your homeschool environment is fun and the kids have a say in it.
There also good reasons to take a break or alter homeschooling during the summer months:
Summer months are exceptionally well suited for nature studies and hands-on projects, rather than sit-down studies.
Kids may resist being cooped up inside during summer days, especially if neighborhood kids are outside playing.
Summer vacation is a wonderful opportunity for the unstructured free time that kids need.
Many of their friends may be off for the summer and they can spend quality time with them.
There's something to be said for plain old lazy summer days, and what they provide for all of us (kids and parents alike)!
Most homeschool families continue homeschooling in some way through the summer months. They generally also realize that kids don't need lesson plans and curricula to keep learning, and that homeschooling in summertime can also involve raising tadpoles, watching fireflies, joining summer reading clubs, vacationing with family, building tree forts, helping in the garden and gathering seashells at the beach.
For some summer homeschool inspiration, see my Summer Magic board on Pinterest and click on the summer science and summer learning categories here on this site.
Enjoy your summer!
***
Want to support our site?
You deserve it, and it will help us out.
It's a win-win!   😉 
This site is an affiliate for Amazon.com.  Purchases made through this link will earn us a small commission, at no extra charge to you.
***
This article originally appeared on examiner.com