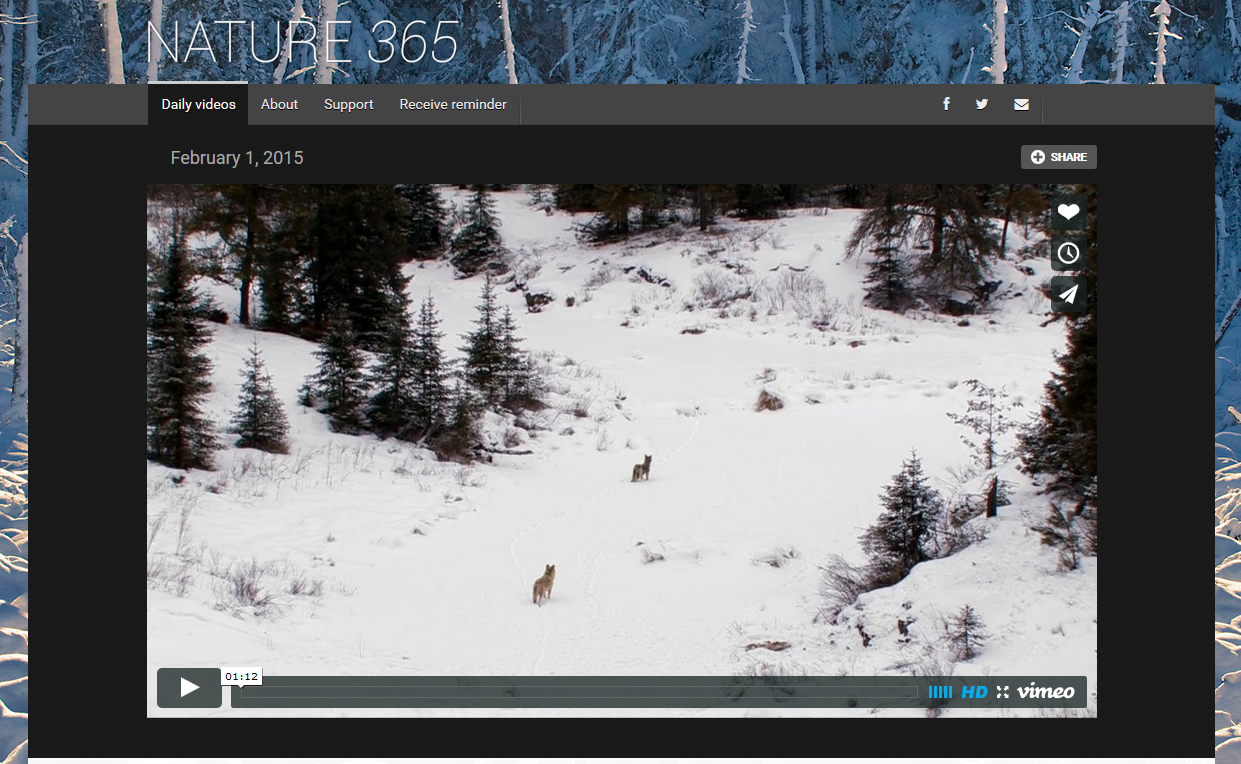 World renowned photographer Jim Brandenburg has created a video project that gives kids the opportunity to watch breathtaking one-minute glimpses of nature every day this year.
The web-based documentary series, Nature 365, features a new, a one-minute clip of seasonal nature footage for every day of the year.
The footage is compiled from videos that the photography shot over the past dozen years near his northern Minnesota home in Ravenwood and in his foundation's "Touch the Sky Prairie" near Luverne, Minnesota.
The Nature 365 website refers to the project as "a naturalist and poetic vision of the northern wild biotopes." Brandenburg himself compares the short videos to haiku.
The wordless videos feature regional wildlife such as loons and bison, natural phenomena like the Northern Lights, and mesmerizing minutes of the simple beauty of the natural world.
Brandenburg points out that the current footage is "kind of quiet" since it's winter. "When spring and summer and fall come, it's way more dynamic and pretty," he told the Pioneer Press, "We don't say where it is each day. We want to keep it minimal."
Wolves are featured prominently in the videos, which Brandenburg discussed on his blog:
In particular I have been living with and filming the wolves of my wild Ravenwood for more than 35 years and consider them like family. Knowing each of their individual personalities has caused me to have quite deep, complex and emotional feelings about them and their situation. I have known some since they were born and watched them grow and mature into mothers and fathers. The wolves are a predominant theme and regular subject in NATURE 365. Most of these rare moments have never been seen by the public. Some moments will surprise even those that study wolves. I know of no one who has spent more time in the midst of wild wolves in such an intimate way.
However, Brandenburg wrote of how this all changed when Minnesota began encouraging wolf hunts. He wrote:
Sadly, for the past three years a misguided wolf hunt was put in place by the Minnesota Department of Natural Resources. Never in my wildest dreams would I ever have imagined this development…

Consequently from the beginning of the wolf hunt, it became nearly impossible for me to live in the 'war zone' that my northwoods home and sanctuary had become. The pack disbanded, dispersed and virtually disappeared from sight. The few that remained lost trust in me from the trauma of the hunt. Crucial family members of the pack were now missing and presumed dead. Three members of the pack were known to have been shot, the alpha male and father of several generations of pups was illegally shot and killed before the delisting of wolves from the protected list. I have not seen or photographed a wolf for almost 3 years where I had encountered them nearly everyday in the past.
Thankfully, this has changed again, with new hope for the wolves Brandenburg filmed so often:
Then, and surprisingly on December 19th, Federal District Court Judge Beryl A. Howell, for the United States District Court for the District of Columbia ruled that the wolf would go back to a protected status as a threatened species in Minnesota and the wolf hunt must end immediately. My mind and spirit are still spinning. Now there is a new hope and renewed faith. With that, I invite you to celebrate with me as you watch some of those remarkable daily impressions that came from that mysterious and often secret wolf world I was privileged to be absorbed in.
The videos are incredibly well made and strikingly beautiful, offering glimpses of many sights that children today might never otherwise see such as the Northern Lights and up close footage of wild animals simply living their lives.
Past videos are archived at the site, so you can catch up on those you miss.
Homeschool families near Minnesota can also visit the Brandenburg Gallery in Luverne, Minnesota, or Ely, Minnesota. Those too far too visit are encouraged to check out the world renowned National Geographic photographer's phenomenal photography on his website and in books such as the famous Chased by the Light.
Chased by the Light is full of stunning photography that is even more remarkable because of the way Brandenburg challenged himself for the project. He said: "In autumn I set out to make one photograph—one single exposure—each day for 90 days. I hoped with patience and endurance to renew my vision of the natural world."
Wikipedia explains:
In his over 25-year tenure with National Geographic, he traveled the world taking pictures for the magazine. On the projects, he found himself taking up to 300 rolls of film only to have a few dozen selected for the published articles. In 1994, feeling "increasingly dissatisfied" with his art, he undertook a personal project wherein he limited himself to take only one photograph per day between the autumnal equinox and winter solstice. The resulting shots made up his book Chased by the Light…
The book shows each day's one and only shot — and they're incredible.
This would make a great inspiration for a homeschool photography project as well.
Brandenburg has also published many young adult books, including the National Geographic book Face to Face with Wolves.
Visit Nature 365 to start watching the videos, and see what homeschooling paths follow!
Note: The videos that I've seen have been mostly playful and peaceful. However, some videos do portray death as a part of natural life. Parents may want to screen videos for young and sensitive viewers.
***
Want to support our site?
You deserve it, and it will help us out.
It's a win-win!   😉 
This site is an affiliate for Amazon.com.  Purchases made through this link will earn us a small commission, at no extra charge to you.
***
This article originally appeared on examiner.com