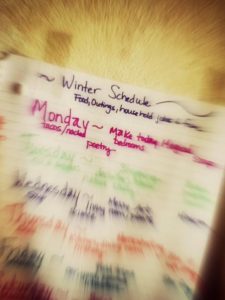 We homeschoolers tend to set high standards for ourselves, and never more so than at the start of a new year, whether it's a new school year or a new calendar year.
This year, we'll stay on track in every subject.
This year, we'll read all 250 books on that list of what kids should read at this grade level.
This year…
And then, real life butts in again and we beat ourselves up for "failing" at it all.
It's nonsense!
This year, resolve to make no more unrealistic resolutions.
Instead, set some general family goals for your homeschool.
For instance, resolve to try to:
Read together every day.
Do art at least once a week.
Say yes to more opportunities.
Say no to more opportunities.
Start a science Friday.
Do some sort of math every day.
Play more educational games together.
Set no more than two or three general goals, and involve the kids too. Would they like to do more crafts? To aim for a visit to the library once a week? Start to learn German?
These are only goals, and that's important. Phrase your language with:
I'd like to…
instead of
I should…
There is no failing with this sort of resolution!
Please feel free to leave your homeschool goals in the comments so we can all inspire each other.
Happy New Year!

***
Want to support our site?
You deserve it, and it will help us out.
It's a win-win!   😉 
This site is an affiliate for Amazon.com.  Purchases made through this link will earn us a small commission, at no extra charge to you.
***
This article originally appeared on examiner.com