Here are some great ways for the kids to play (and learn) in every subject from right at home today.  These online games are all free and require no special downloads or installations other than basics like Java or Adobe Flash Player in some instances.
Math: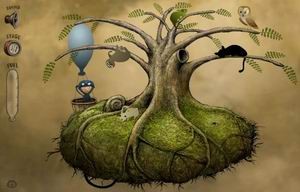 Zeus' Petals teaches kids multiplication skills.  The game says:  "A mysterious dark tower has appeared and spread chaos across the land. Help Zeus restore peace and tranquility by using multiplication skills to clear blocks from tower."  This game is simple fun that gets progressively harder.
The Factor Tree Game is another online game that relates to multiplication and division, teaching kids to find the factors in numbers.  Here is another game involving factors that can also be played on paper.
Physics Games offers 60 different online games that teach principles of physics.  Games include challenges like removing blocks so that just certain colors will fall away, blasting block buildings so that the building next to it is untouched and knocking the treasure chests into the water by firing as few cannonballs as possible.  (Note: I did not screen all games so preview them first to determine suitability.)
Red Remover is another science-themed game, this time dealing with gravity.  Each level gets progressively trickier.  The same site offers this electricity game that's also quite fun and educational.
The Animal Classification Game teaches younger kids about mammals, reptiles and other animal families in a fun way.  It's also a good refresher for kids who may have forgotten things like the differences between reptiles and amphibians.
This simple page asks kids to type as many states as they can think of before the time runs out.  The site also has a page for listing all of the countries they can remember.
National Geographic offers 10 geography-related questions a day for kids to answer on their GeoBee page.  Answer them correctly in the quickest time, and make it on the scoreboard!
Grammar Gorilla teaches kids parts of speech and offers two levels.  Click on the main site for lots more games in many subjects.
Kids can play games with spelling words at Spelling City.
Various subjects:

Free Rice lets kids help the hungry and learn at the same time.  They answer progressively harder questions about the category they choose (including foreign languages, vocabulary, famous paintings, chemistry symbols, geography, basic math and more) and rice is donated for each question they answer correctly.  The program automatically adjusts to the child's level, so that it offers just the right amount of challenge.
Questionaut is a puzzle/quiz game set in an unusual fantasy world for kids 8 and older. Players lead the hero on a quest for his friend's lost hat, solving puzzles on each island to get questions to appear. Correctly answering questions in the areas of language arts, math, and science fuels the balloon to take kids to islands higher in the sky.
For younger kids:

Learning Games for Kids has online games for preschool to early elementary age in all different subjects.  Games include a math maze, a US map test and "whack a difference."
PBS Games has oodles of online games that correspond to shows like CyberChase and Word Girl, teaching everything from science to phonics.
Remember to always preview sites to see if they're appropriate for your child. Some sites contain advertisements that may change and may not be suitable for small children.  Teach kids not to click on outside links and to follow other internet safety measures.
***
Want to support our site?
You deserve it, and it will help us out.
It's a win-win!   😉 
This site is an affiliate for Amazon.com.  Purchases made through this link will earn us a small commission, at no extra charge to you.  Thanks for your support!

***
This article originally appeared on examiner.com