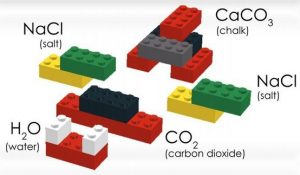 Do you have a Lego lover in your house? Legos are great for learning when they're used as building tools, but there are also all sorts of great lesson plans on the web to use them in even more educational ways.
From chemistry models to creative writing prompts to symmetry challenges, there are fabulous lesson plans on the net to use Legos in your homeschool.
Here are some of my favorites.
This elaborate lesson plan features free activity pages, a teacher plan and printables from MIT:
This activity uses LEGO® bricks to represent atoms bonding into molecules and crystals. The lesson plan is for a 2.5 hour workshop (or four 45-minute classes). There is a "wet lab" chemistry experiment (mixing baking soda and calcium chloride with phenol red indicator), followed by a "LEGO lab" modeling phase that includes writing formulas using chemical notation.
Feel free to adapt the materials and lesson plan for your kids. For instance, you could skip the lab portion and just use the Lego key to make Lego molecules of various atoms and molecules. The lesson plan is designed for ages 11 and up, though it can be adapted for many ages.
2. MIT provides a similar Lego lesson plan on photosynthesis:
This lesson allows students to concretely experience the photosynthesis reaction by building models of the reactants and products with LEGO bricks. Students construct a glucose molecule, simply by rearranging the atoms of carbon dioxide and water. They can go on to make chains of starch and cellulose. The lesson teaches students that most of the mass of a plant actually comes from the air and water, rather than from soil.
The lesson plan is geared towards grades 6-8, though it can be adapted for many ages.
This is an easy, visual way to help even the youngest kids understand concepts like perimeter and area. Kids color in their Legos on graph paper and figure out the combined areas and so on. This activity could easily be adapted and extended for even more geometry fun.
4. E is for Explore also provides Lego lesson plans on multiplication, inventions and more.
love2learn2day has a lesson plan building Lego designs with different types of symmetry, along with links to explain line symmetry, reflective symmetry and rotational symmetry. This lesson is designed for elementary ages and up.
The Mathematical Association of America has some sophisticated Lego sculptures to inspire your kids, along with links to many more impressive ones. The author decided to create some Lego sculptures based on math, and did challenges such as writing a computer program in order to design a Mobius band by eye.
7. The Kent Chronicles provides Lego math printable pages for early elementary kids.
8. Create Teach Share has a 100 Lego Challenge for elementary ages where kids are given 100 Legos to build a creation with, and then they draw the creation and write about it on the free printable form.
9. Balloon Car
Marshall University has a lesson plan on building a balloon-powered Lego car, along with lots of pictures and an example plan to use. This activity works with kids from elementary age on up.
10. Milk and Cookies has several ideas and printables for using Legos in elementary math, such as a Lego multiplication chart, Lego multiplication and division sheets, Lego fractions and graphing Legos. There's also science, social studies, art and other Lego lesson plans featuring a Lego periodic table, Lego state and country models and lots more.
11. Choking Hazards has instructions on how to build Lego skulls (here are photos of some finished ones) and even created a Lego skeleton with organs and veins.
12. Enchanted Homeschooling Mom has a lesson plan building the Nile River with Legos in order to accompany a Story of the World unit on Egypt.
13. Walking by the Way has created a junior Lego lapbook and a Lego unit study and lapbook for older kids.
14. Lego Quest
Lego Quest is a monthly challenge for LEGO loving kids. It is non-competitive, creative fun. There are no winners and there are no commitments. Play along only when you are inspired by the challenge. New challenges come out the first monday of every month.
15. Lego Club for Homeschoolers
This free monthly club meets for an hour each month with a teacher who leads the discussion at CurrClick. Each month has a theme, lesson plan, show and tell, and challenge activities. During each meeting, children have the opportunity to hold a 3 minute show and tell of something that they have built.
16. Also be sure to check out the Lego Educator's Site, which has the Lego Smart blog, ideas by grade level and lots of inspiration for home projects.
17. Lastly, be sure to sign your child up for the free LEGO Club Magazine (or junior magazine for kids under 7)!
How do you like to use Legos in your homeschool?