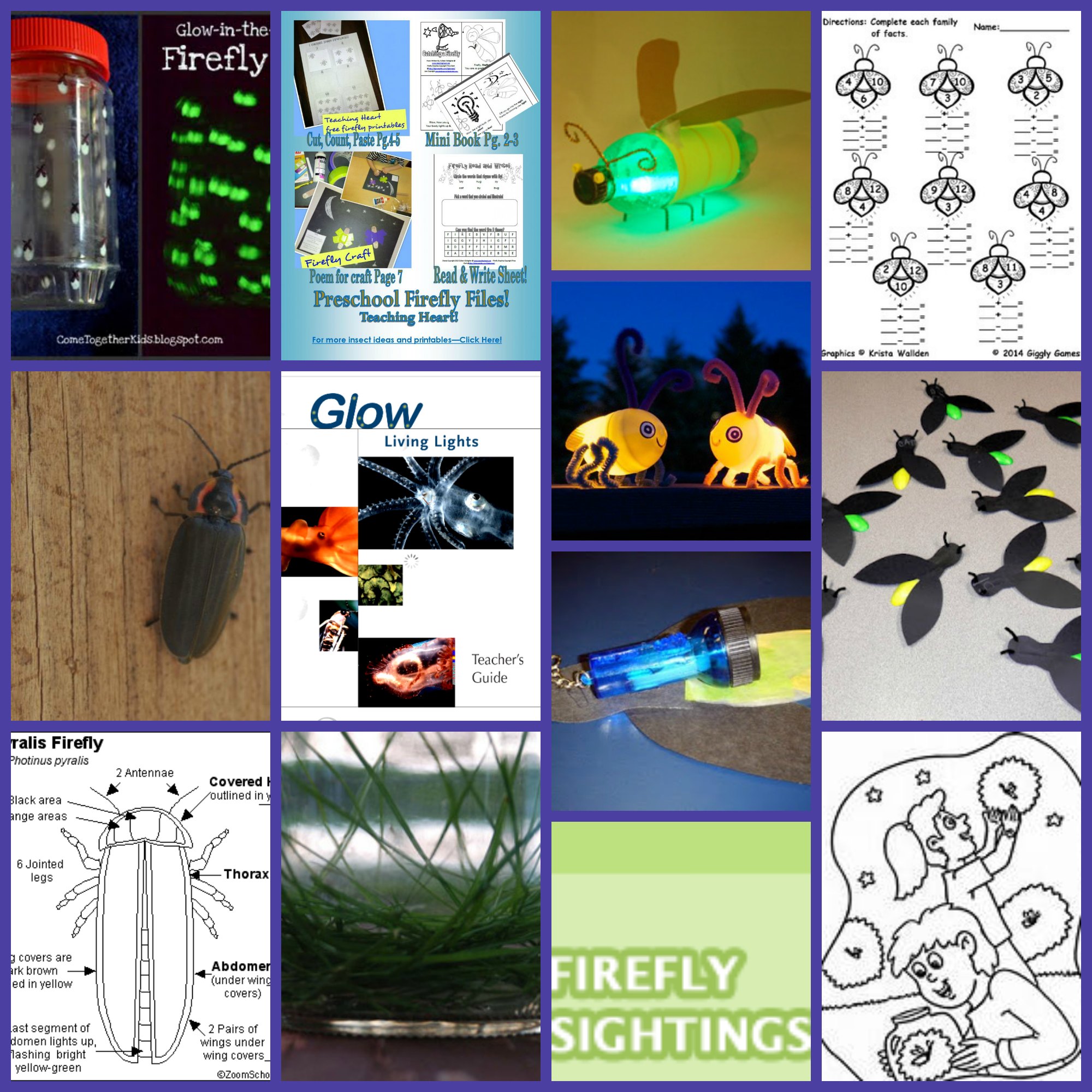 Fireflies offer the perfect blend of science, nature, fun and magic. This is the perfect time of year to study them, too, and do some firefly crafts with the kids.
Here are all sorts of ways to study these fascinating little insects and have some fun.
Firefly.org is the perfect spot to start your firefly activities. This site offers lots of easily understood information, photos, information on how to catch them (and how to do it safely for them) and lots more. Be sure to check out the fascinating facts page. Kids can also take part in citizen science by reporting sightings.
The Carnegie Library offers this lesson plan to teach kids about fireflies and bioluminescence.
National Geographic offers basic firefly information.
The San Diego Natural History Museum offers a free 48-page teacher's guide to their bioluminescence exhibit. It features a great deal of information about organisms that use bioluminescence, plus activities, experiments and more.
Sky Lights offers more sophisticated information, including a lesson about synchronization and facts like these:
The average firefly puts out around 0.125 watts of light, using a process known as bioluminescence.
Bioluminescence is extremely efficient, some say 95%, with virtually no heat production.
A "swarm" of fireflies can number in the hundreds to thousands, with an average insect spacing of 10-15 cm
There are some 2000 known species of fireflies. Only about 20 flash synchronously.
This insect is actually a beetle, not a "fly," and is sometimes called a "lightning bug."
The Bioluminescence Web Page offers a lot of information about the science behind fireflies, including experiments like this activity where kids can examine a chemiluminescent chemical reaction with glow sticks.
Teaching Heart offers a free printable firefly book for young kids, full of ways to incorporate writing, math and more.
Very young kids can have fun with this online coloring page of a firefly.
Lapbook lessons offers firefly projects such as these:
Here are more printables:
Here are some great crafts to make your own fireflies:
Make a light-up firefly with an Easter egg, a tea light and some pipe cleaners. Apartment Therapy has the simple steps.
Make a pop bottle firefly with a glow stick for more light-up fun, from Crafts for All Seasons. Note that a reader suggested inserted an index card painted with glow-in-the-dark paint to make it reusable. Kids could experiment to see which items glowed best inside.
Make a plastic spoon and paper firefly with spoons painted with GITD paint and black construction paper wings, via Tippytoe Crafts. She also has a version that uses paper and mini flashlights.
Make a firefly jar with just glow in the dark paint and a black sharpie on the inside of a recycled jar, via Come Together Kids.
Here is a firefly song that kids can sing (author unknown):
"Fireflies in Flight" to the tune of "Camptown Races"

Fireflies come out at night.
Blink, blink, blink, blink.
Showing off their little lights
In the summer sky!

Can you see them glow
Flying to and fro?
Fireflies come out at night
In the summer sky!
Here is a firefly poem for young kids, via PoemHunter:
To A Baby Firefly by C.J. Heck

Little baby firefly
when your night is through
does your mommy tuck you in
and tell you she loves you?

Does she kiss your forehead
and say in morning's light…
'Day-day little sleepyhead,
close your eyes, put out your light.'
Also look for these books at your local library:
When Lightning Comes in a Jar by Ernest L. Polacco
The Very Lonely Firefly by Eric Carle
Fireflies by Julie Brinckloe
Ten Flashing Fireflies by Philemon Sturges
Fireflies in the Night by Judy Hawes
Creatures that Glow by Melvin Berger
Sam & The Firefly by P.D. Eastman
Firefly by Paul McCutcheon Sears
Fireflies by Mary R. Dunn
Fireflies by Margaret Hall
Have fun!