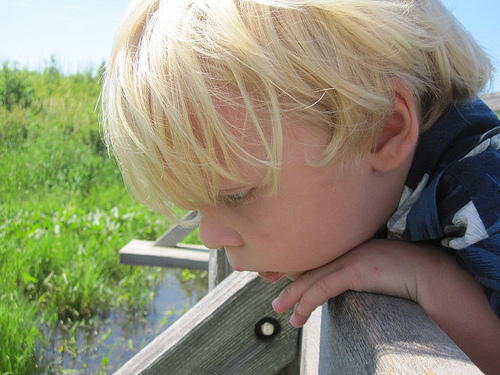 I've been sharing free curricula for every subject and each grade in this column, and several parents have asked me to share free curricula for preschoolers.
I've put off doing a preschool list yet for two reasons:
If you're new to homeschooling your kids, it's more important to find resources for older kids than it is for preschoolers.
Preschoolers frankly do best without using any formal "curriculum" at all.
Plenty of parents will say that their two, three or four year-olds are academically advanced and love to "do school." They may be learning to read already and parents are worried about keeping up with their needs and challenging them. They may even be asking for worksheets and desk-work.
Of course we need to meet our children's academic needs, but sit-down learning and school-at-home are frankly not very good ways to meet young children's academic needs.
If you think your child will be behind if you forego a "rigorous academic" environment for your preschooler in favor of play-based learning, you might want to do a little research. Study after study has shown that children in play-based preschool environments substantially outperform kids in academic preschool settings later in their school years.
Young children learn better through hands-on learning and they're more likely to retain a love of learning with a play-based and child-led education.
That is not to say that there aren't fabulous ways to teach your preschooler at home — or rather, to facilitate your preschooler's own educational explorations.
Here are my ten favorite "curricula" for preschoolers:
The library. Visit the library at least once a week and come home with stacks of good fiction and non-fiction books that you choose and that your child chooses. Read often. If books aren't a hit, put them aside and move on to ones that are. Treat books like the fabulous treasures they are, and give your child lots of leeway in picking which ones you read.
Nature. Time outside should be a daily requirement in almost any weather. Take nature walks, go to parks, visit nature centers, do nature journaling and be sure your yard has places for your child to freely explore and experiment with nature. Also bring nature inside with nature baskets filled with seasonal/natural materials (pine cones, seed pods, seashells, cicada skins, deserted wasp nests, fossils, driftwood, etc.) and a magnifying glass.
Art. Art should be a daily part of a preschooler's life and it should be as open-ended and creative as possible. Rotate through lots of varieties of art materials and also use household items to create art. For instance, keep a basket of junk items on the table for your child to make collages and sculptures with (things from the recycling bin, address labels, junk mail, and so on can be paired with paper or card stock and glue sticks for collages, and electrical tape can help transform junk items into creations and sculptures). You can also make your own art materials with recipes like these (for DIY watercolor paints, hand lotion playdough, natural dyes, glue and more) and these (for DIY ink, fingerpaint and floam).
Household items. So many normal household items can help facilitate your child's curiosity about science, math, reading and more. Keep fun educational items out for your child to explore such as kitchen scales, magnets, old dictionaries, calculators, thermometers and compasses. (See 50 Simple household items that help your child become a math whiz for some great items to stock your fun educational stash.)
Hands-on educational items. There are some educational supplies that are fabulous for helping young children play with reading, science and math. These are a much better investment for your child than boxed curricula. Some of my favorite educational items are Cuisenaire rods and letter tiles, but you can also just make your own. For instance, we've written letters on pumpkin seeds, plastic bottle caps and river rocks to spell out words. Browse Montessori catalogs for items to replicate at home, too. (See Making your own Montessori materials for lots of great sites to help you make your own educational supplies.)
Expeditions. You don't need to spend a lot of money or go exotic places to expose your preschooler to fun learning environments. Regularly take the time to explore places in your community like pet stores, museums, art galleries, universities, ethnic groceries, pick-your-own farms and any place you think of to tour. (See 50 Fun field trips for homeschoolers for other ideas in most communities.)
Games. Make up fun games frequently to help your preschooler learn reading, writing, math and more. You can turn Candy Land into a fun phonics game, for instance, or you can just write up a bunch of words on post-it notes (such as door, table, box and mom) and ask your child to stick them on the proper items. This is a great way to make use of time in waiting rooms or car rides, too. Ask your child to come up with opposites of words you say, or take turns listing all the words you can think of that start with a certain letter (adults need to list words that are 3 or more syllables to make it even!). (See 10 Fun ways to get kids ready to read for lots more educational games to play with your child.) Pinterest is a great place to find lots of great educational activities, too. From making letter dominoes to making scented baking soda and vinegar reactions, you can find my favorite preschool and kindergarten pins here.
Real life. Involve your preschooler as much as possible in the real world for the best possible education. Cooking, shopping, fixing things, building, sewing, gardening… all of these tasks are not only enjoyable for young children but they are fantastic ways to learn about everything from science to math to life skills.
Talk. Make time all through the day to answer questions, have discussions and just generally talk together. Encourage your child to ask questions and find the answers together if you don't know them. Also ask your own questions and encourage your child to brainstorm about answers.
Play. This is the most important part of a preschooler's education, for this is how young children learn. Play with your preschooler and set up an environment with lots of creative ways for your child to play. Allow messes and experiments. Encourage curiosity. Foster an environment where your child imagines, creates, moves, wonders, pretends, builds and discovers.
In the long run, you'll find that your preschooler will learn more and learn better through real-world exploration and play. Best of all, your child will grow up with a love of learning that will carry through in the years to come.
***
This article originally appeared on examiner.com.