Getting Started Homeschooling: Everything You Need to Know About Legal Requirements, Curricula, Testing, Types of Homeschooling, Learning Styles, Socialization and Making It Fun for Everyone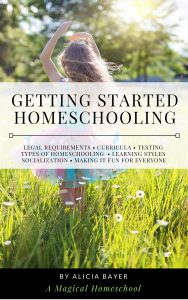 Yes, you can homeschool! And better yet, you can create the perfect homeschool for yourself and your children.
Whether you're thinking of homeschooling your preschooler or pulling your older child out of school, this helpful guide was written to give you the tools to create the perfect home learning environment for your family.
Find out…
The difference between Waldorf and Montessori homeschools (along with classical, Thomas Jefferson, Charlotte Mason, unschooling, radical unschooling, unit study, project-based and more homeschool styles)

How to pick the right homeschooling method for your family
What deschooling is and why it matters

The best ways to teach visual, auditory and hands-on learners, with examples of great curricula for each type

The best tests to use for required testing

100 Ways homeschoolers can get socialization
How to put more joy in your homeschooling

and much more!
Get all the tools you need to design the perfect learning environment for your particular children and keep it fun for the kids — and you!
Chapter one will tell you the very basics of starting to homeschool.  Here you'll find out how to find and follow your state's laws, what you need in order to homeschool (very little!), all about "deschooling" older kids who have been in school outside of the home, and suggestions for homeschooling the preschool years.
Chapter two will help you find your child's learning style and get ideas on how to best teach to it.  You'll learn about hands-on, visual and auditory learners and the best ways to homeschool for each type, with lots of fun examples of ways each kind of learner tends to learn best.  I'll also give examples of curricula that are well suited for each type.
Chapter three is all about homeschool styles.  Find out the basics about Waldorf, Montessori, project-based, school-at-home, TJed, Charlotte Mason, Reggio Emilia, classical homeschooling, public school at home, unschooling and more.  I give suggestions for resources and curricula for each type of homeschool and help you decide if they're styles you'd like to incorporate into your own homeschool.  You can see which elements of each one appeal to you and design your family's perfect homeschool.
Chapter four will help you find curricula and resources to match your family's needs.  I'll help you find the right programs for your child and also list lots of great free curricula in every subject and for every homeschool style.
Chapter five covers the "nuts and bolts" of homeschooling.  Learn about testing options, get information about that dreaded S word (socialization), and get troubleshooting ideas to make this homeschooling thing fun for all of you.
With links to over 70 free homeschool programs and curricula for math, science, social studies, foreign language, art, reading, writing and more.
Now available for Kindle and coming soon in paperback.  Free to read on Kindle Unlimited!
You can learn more and peek inside here.