Most of us know how important nature is for kids and lately there have been a slew of fantastic books to help kids get out into nature and learn more about it.
I am lucky enough to get advanced copies of many books in digital or print format from the publishers for the purpose of review. Here are some of my recent favorites, along with my thoughts on the good and the bad in them.
(Note: This post contains affiliate links. If you purchase through our links we get a small commission at no extra cost to you and it helps support our site. That said, I encourage you to ask for the books at your library or local bookseller!)
The Wild Weather Book: Loads of things to do outdoors in rain, wind and snow, by Fiona Danks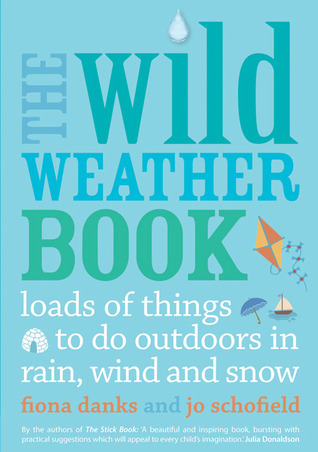 It's raining outside – let's get out and play! Don't huddle cooped up indoors on a bad weather day: wrap up in warm clothes or waterproofs and get out of doors for some fun. This book is bursting with wonderful ideas for having fun outdoors even in the most challenging weather! Imagine jumping in the biggest puddle you can find! Or running barefoot and feeling squidgy mud ooze up between your toes! Or running up the nearest hill to feel the wind try to carry you away! Go on an animal hunt and find the creatures that come out in the wet, or fly a kite in the wind and catch falling leaves! Take your camera into a white wintry world and see how many different icy patterns and shapes you can find. There are loads of exciting and creative things you can do in the natural world when the weather's wild…so don't wait for the sun, take this book with you and go outdoors for a wild weather adventure!
This is such a fun little book, perfect for getting kids outside and into nature. The sections are basically things to do while it's raining, after it's rained, on windy days, in the snow, and on cold days. There are lots of photos of kids actually doing the activities, which I love — not stock photos. The activities will work for lots of ages and there are things for kids to do alone or with a crowd. Examples of activities….
In the rain, make a big umbrella den with lots of umbrellas and go sit in it while it rains.
In the rain, make artwork that you hang in the rain and watch how the rain changes it.
Right before it rains, lie down and let the rain fall on you, then reveal your "rain shadow" (this one seems a bit tricky to get right but the photo was really cool).
After it rains, use items from the recycling bin and forked sticks to make a water contraption (pour water through it and watch it run through various parts).
In the snow, make snow creatures with sticks and leaves (like a porcupine), snow mazes (rolling snowballs in big spiral shapes to reveal the grass underneath to make a maze), etc.
Play snow games like snow golf (set up bowls in the snow and throw snowballs at them, move on once you get one in, first person to complete the course wins).
Play ice games like ice hockey (use sticks to bat a piece of ice around any icy pond).
Make ice ornaments, artwork, sculptures, lanterns, etc.
Yes, lots of us have probably already done a lot of these. Still, even as a mom who's been doing nature activities with my kids for 20 years I found some fun new ideas and it's nice to have so many fun ideas in one place.
This is obviously better suited for folks in climates where it gets cold and there are lots of weather variations. I would have been pretty sad to get this book when I was a little girl in California. 🙂 The book is British and it should work well in all kinds of climates that do get cold, windy and wet, though.
Nature Play at Home: Creating Outdoor Spaces that Connect Children with the Natural World, by Nancy Striniste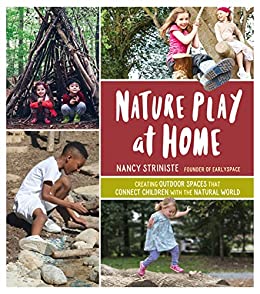 "A magnificent resource for transforming backyards into stimulating environments which enhance children's creativity, learning, and fun." —Richard Louv, author of Last Child in the Woods, The Nature Principle, and Vitamin N

Access to technology has created a generation of children who are more plugged in than ever before—often with negative consequences. But there is a solution. Unrestricted outdoor play helps reduce stress, improve health, and enhance creativity, learning, and attention span. In Nature Play at Home, Nancy Striniste gives you the tools you need to make outdoor adventures possible in your own backyard. With hundreds of inspiring ideas and illustrated, step-by-step projects, this hardworking book details how to create playspaces that use natural materials—like logs, boulders, sand, water, and plants of all kinds. Projects include hillside slides, seating circles, sand pits, and more.
The cover of this delightful book doesn't do it justice. It is just wonderful in every way. It not only talks about why children (and all of us) need nature but then features page after page of inspirational photos, ideas, projects and more to make wonderful natural areas outside.
I bought my own copy of this one, as it was full of so many wonderful photos and inspiration, and I plan on trying a lot of the projects and ideas. Highly recommended.
A Year of Forest School: Outdoor Play and Skill-building Fun for Every Season, by Jane Worroll, Peter Houghton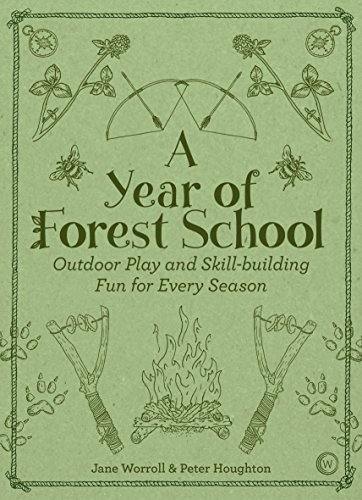 Forest schools and other outdoor learning environments are becoming increasingly popular, not just in the United Kingdom but in the U.S. and around the world. This book gives parents and teachers ideas for nearly 40 seasonal activities suitable for forest schools, homeschools or other learning environments.
The book features about 10 activities each for each of the four seasons. Some are games, others crafts, and some are skills like fire building or carving. They are designed to be used for children roughly age 3 or 4 through 12 or so, though the ages are rather subjective.
As an example, the activities for spring (from the table of contents) are:
Make nettle soup (from foraged stinging nettles)
Make a "wood cookie man" (slices of logs assembled into a doll)
Make bramble cordage (make twine from the inner fibers of raspberry or blackberry stalks)
Play "mammoth, hunter, mouse"
Make a sistrum (musical tool) from wood
Make a mud birthday cake for the Earth
Have an "egg hunt" (look for golden tickets together to redeem for a chocolate egg)
Do clay art a year of forest school
Make dandelion lime tea
Summer includes activities like making a bark mask and making ink from crushed berries and cutting a goose feather into a quill to write with it. Autumn includes activities like making an evergreen paintbrush or baking apples on a fire. Winter includes activities like doing a compass treasure hunt and making charcoal pencils.
The paperback version of the book is filled with some sketch drawings of the activities. It is printed in dark gray with green accents.
There were things I really liked about the book, with some caveats.
Pros:
Children are trusted to learn skills like foraging, wood carving and fire making from a young age, and given very clear safety instructions on how to do this safely.
The activities are designed to work with various ages and abilities.
The activities are designed to encourage cooperation and teamwork, not competition.
Kids learn about great skills
It encourages kids to spend a great deal of time outside in all kinds of weather
There are lots of fun projects and some fun games
As an avid forager, I love any book that encourages teaching children to gather wild foods
Not much is needed for outside equipment or supplies
The book is generally fun and encourages a love of the outdoors
It's quite afordable
Cons:
There sometimes weren't enough drawings or instructions for me to understand complicated directions. For instance, I found the cordage activity very confusing in terms of how the author said to weave the fibers. Our family has made cordage from other plant fibers but not in the way they instruct, and I ended up confused by what she meant.
Most of the games involve fairly large groups, so they are not likely to work in individual homeschool families.
The book was written in the UK and some of the trees, foraged foods and such will not be available in other regions. Of course, you should be able to find suitable substitutes.
I was able to preview two versions of this book — one was a temporary PDF sort of look at the print version and the other was a digital download via Kindle. The Kindle version had no illustrations. I don't know if this was just for the review version or if it will not have any if you purchase it via Kindle. I'm not sure I'd recommend this book in Kindle format unless you can preview it somehow and be sure you'll get a version where you can see some of the illustrations.
All in all, I found it to be a fun book with good information about teaching skills like fire starting and knife safety, and a nice variety of nature-related activities. It should provide some good inspiration for outdoor activities, and gives a nice look into the forest school environment. It's priced inexpensively and would make a good addition to a homeschool or school library.
Back Yard Adventure, by Amanda Thomsen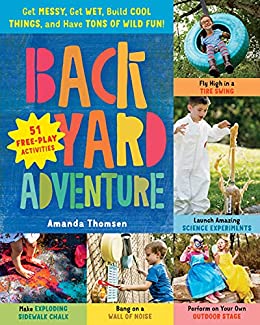 The backyard has long been a space associated with recreation and relaxation, a private patch of earth to escape to, and a springboard for the imagination. In her signature style and drawing on her personal experience as a mother, gardener, and author, Amanda Thomsen encourages kids to create kingdoms of their own making, right in their own backyards. With whimsical projects for every season and any setting, from forest to pavement, fun-seeking kids and their families will rediscover the yard as a place for inspired play, using repurposed materials and existing features of outdoor spaces. Whether they're creating tiny gardens inhabited by action figures, weaving a secret hideaway out of a loom of twine and twigs, or setting sidewalk cracks on fire with Coffeemate, Backyard Adventure lets kids of all ages turn their yards into a place they can call their own.
In most ways, this is a spectacular book. It is filled with child-friendly outdoor ideas that are creative, messy, sensory and fun. Many of them are low cost and many are easy for parents to help set up and step away from so kids can lead the fun. The author also has a really likeable tone, the perfect mix of funny and wise.
The book is broken up into sections, which include
forts and other hideaways (examples: make a fort from hay bales, make a badger hole or big hole with a covering in the dirt, make a living willow fort)
places for tinkering (examples: create a mud lab, make a marble tube from tubing, safely use fireworks)
naturally wild (examples: make dyes from natural materials, plant things you can snack on or throw at each other, make seed bombs)
setting up camp (examples: make an easy outdoor shower or toilet, make an outdoor stage, make campfire food)
sidewalks driveways and fences (examples: put shaving cream on the fence and stick cheese puffs and other things onto it for designs and wash it off, make exploding sidewalk chalk with plastic bags filled with baking soda and vinegar and food coloring in pouches)
adventure course (examples: make a tire swing, make your own slip and slide and cover it with slippery stuff, make a red yarn laser course)
water bubbles and goo (examples: make eggshell paint bombs, make a giant water bag, make easy sprinklers with things like water bottles or pool noodles)
lurking after dark (examples: have a glow stick hunt, make a zombie by wrapping someone in plastic wrap and duct tape and cutting it off and giving it a head)
I love so much about this book! I love that the book is filled with pictures of real kids actually doing all the activities, and not stock images. I also love the focus on child-led fun, nature play and encouraging mild risk-taking (which we know is very important in raising resilient, creative, self confident kids). I also love that the author encourages letting your yard be wild and kid-friendly instead of sterile and uninviting. And of course I love the fact that it encourages kids to happily get outside and stay outside. I knew that my 11 y/o especially would be thrilled with a lot of the ideas.
What I don't love quite so much– This book just isn't going to work for all families. We are lucky enough to have a large yard but so many of the ideas aren't possible for us. She encourages you to build a high fence so your mess won't bother anybody but her ideas are frequently the kind of things that towns like mine and homeowners associations frankly ban. I can't let my grass grow long and mow spirals in it. We had tires and logs in our back yard play area for the kids to create with and we got written up by the city for it. And creating a "wall of noise" (hanging pots and pans and other loud things to bang on) or hanging drums and cymbals outside is just not something I would EVER do to my neighbors. These things are wonderful ideas if you live in the country. In the city? You may not have the room or the permission for much of it.
That's not to say the book isn't still full of so many great ideas you'll be glad you got it. There really are oodles of fun things to do even if you live in a town like mine or have a tiny back yard in the city. But you may find that many of them are just not going to work for you.
Other small qualms —
1. There are a few times in the book where the author gives advice that I found frankly dangerous or really annoying. At one point she lists other items to use for sledding besides sleds and lists old doors and wooden drawers. My middle son is on a first name basis with our local ER staff and that's with me having the sense not to let him hurl himself down a snowy hill on a wooden door. I can't fathom how anybody could think that wouldn't result in broken bones or a head wound. She also says you can plant elderberries to snack on and throw at people. As an author of an elderberry foraging book and cookbook, this horrified me on two levels. First of all, you should never eat elderberries raw as they're mildly toxic if they're not dried or cooked. Secondly, elderberries are too fabulous to waste tossing at people. 🙂 And then there's advice like to toss eggshells full of paint at your fence, driveway and trees, saying, "the eggshells will compost into the lawn and the paint will wash away, so you don't even have to clean up." What? Wow, my neighbors would love me even more if we pelted everything in sight with eggshells full of paint and then waited for the next rain to clean it up for us!
2. The book is better suited for middle or upper class families who can afford to buy the loose parts, gadgets, craft supplies, tyvek suits, PVC piping and so on that many of the projects require. It's also obviously best suited for families who have large yards in safe neighborhoods. It would have been great to even have a chapter specially dedicated to those families who are in small spaces or living on limited means. Yes, many of the projects are relatively low cost but any costs add up for poor families and those kids need wonderful outdoor time too.
Also, one of my kids looked through it and liked it but was sad that he couldn't do most of them until nice weather (we had 3 feet of snow and drizzly rain outside). There are a few winter activities but the vast majority are warm weather activities.
All that said, this is still a fantastically fun book full of great ideas. This would be a perfect book to give your kids at the start of summer vacation with a gift certificate for some supplies to set them up for a summer of great outdoor fun.
Wild Year Book, by Fiona Danks, Jo Schofield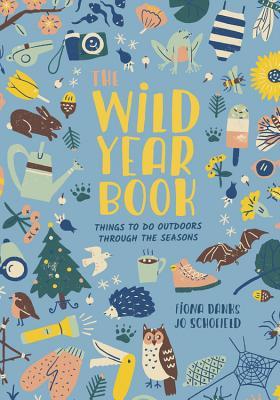 Games, crafts and adventures to get you outdoors all the year round.
Playing outdoors should be an essential part of growing up: your imagination runs riot, lively activity keeps you fit, and you develop an appreciation and understanding of the natural world. The Wild Year Book gives you 70 different ways to enjoy spending time outdoors, season by season. Perhaps you'll want to make bows and arrows from saplings in the Spring, play camouflage games in the summer, jump into huge leaf piles in the autumn, or create ice mobiles in the winter. With this book you will never be short of inspiration!
Over 100,000 copies sold of Fiona and Jo's Going Wild series
This is another by Fiona Danks, because frankly all of her nature books are great. There are lots of fun and simple ideas for kids to play outside in all seasons. Many of these are nothing new for those of us who read a ton of outdoor fun books but it's great inspiration.
There are many photos of the kids actually doing the activities as opposed to stock photos. A great resource for fun ways for children to have fun year-round.