A Magical Childhood Newsletter
For Hannah
March 1, 2006
Today was a very tough day for our family. We said goodbye to one of our favorite people, Hannah Lea Jenner, age 9. Today was also a celebration of Hannah, though, and I wanted to share some of what we learned from this extraordinary girl.
I met Hannah's mother, Diana, though a homeschooling list and we later became friends in real life. She lived up to her signature line, "wackiest widow westriver" and I once described her to a friend by saying "she's the kind of person you'd pay money to be around." Once my girls met Hannah, they felt the same about her. She became one of their most treasured friends.
Hannah and her little brother, Hayden, lost their father to cancer when they were only two and four. Instead of having a life of sadness, though, Hannah exuded joy. She always had a smile on her face. She, Hayden and Diana made friends, took chances, had adventures, lived, laughed and loved every day of their lives together.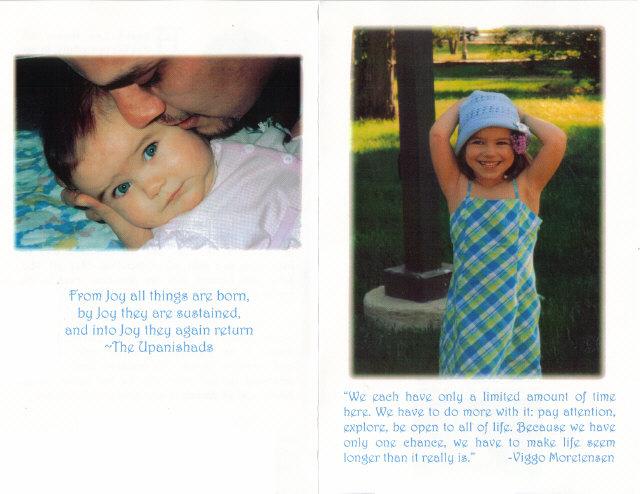 Hannah's memorial read:
~~~~~~~~~~
Hannah Lea Jenner left this life peacefully, in her mother's arms, early on February 24, 2006. She was exactly 1/2 of 19 years old and had a smile on her face, as she so often did. Chemotherapy had just begun for her recently diagnosed Acute Lymphoblastic Leukemia, but infection too quickly claimed her body.
Hannah was an amazing human being, who reveled in the freedom of her environment. Experiences great and small were greeted head on and recounted with joy and gratitude. She has left behind a trail of inspiration and gifts of appreciation. May all who have been blessed with her presence revel in the smiles she gave and the love she shared.
Survivors, grateful for having loved her, are her mother Diana (Lambert) Jenner; her brother, Hayden Jenner, 7; her grandparents, aunts, uncles, cousins, and countless friends-who-should-be-family. She is embraced on the other side by her father, Mitch Jenner, and all the others who have gone before her.
In memory of Hannah, the family requests outpourings of love and tender regard to every child, and gratitude on the parts of parents of living children everywhere.
~~~~~~~~~~~
Hannah's last words were:
"Don't worry about me, Mom, I'm a rock."
Hannah's life was far too short and we will all miss her very much. One of the things that gives me comfort is the life she had, though. She had so much love, laughter and life in those 9 and a half years. She was treasured by her mother and all who knew her. She was loved well. She was happy.
Sometimes life gets hectic, stressful, chaotic and messy. Sometimes we get caught up in the day to day mayhem and lose sight of the big stuff. Today is a good day to remember the big stuff again. Make every minute count. Fill your life and your children's lives with happiness and meaning.
Don't forget to live.
Please hug your kiddos, count your blessings and do something magical today in memory of Hannah.
Hannah, thank you for being part of our lives. We love you.
Love, Alicia

Here are some Letters for Hannah from other people.
A Magical Childhood
http://www.magicalchildhood.com
Copyright 2006, Alicia Bayer
A Magical Childhood Newsletter is just something I throw together because I love children and those who love them. To subscribe, send a message to alicia.bayer@gmail.com or magical-mama@care2.com. We do not use ads. It's not about money. :)
Feel free to pass this on. Don't steal it, that would be rude.