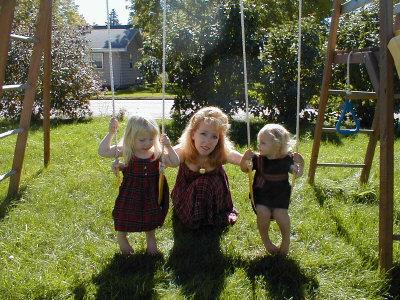 Hi, I'm Alicia. I've been told I have to write a bio so here goes. ;)

I started A Magical Childhood because everywhere I look I see books, toys and sites designed to make kids smarter, but almost nothing to make them happier.

I was blessed with 2 daughters (Victoria and Rhiannon) and a son (Jonathon) after a dozen miscarriages over ten years. They are my joys, my treasures. My husband and I can't believe our fortune.

My own childhood was like something you see on Oprah. My mother divorced my father when I was two, and hid me from him for the rest of his life. We were very poor. I've lived in a car. There were times we had no money for shoes. I've gone without food. We moved from town to town as she put herself through graduate school, covering a half a dozen states. I was small, shy, poor, funny looking and new at every school. It was less than magical. ;)

I am also a survivor of extensive sexual abuse. It took a lot of work to rebuild my soul after what I survived, and my adult life has been spent in part by trying to help protect children and educate adults about this crippling epidemic.

Fast forward to present, and I'm a poet with just under a hundred poems published. I'm working on a book telling the stories of women and kids killed by domestic violence in Minnesota. Some of those poems are now touring the country in a play about domestic violence.

Until a few years ago, I was the program director and sole advocate for our rural county's domestic violence program. My husband, Daryl, is disabled and was a stay at home daddy to our new daughter, Victoria. I ended up in the hospital with severe stress-related health problems and decided to leave my job to be a full-time mama.

We live very frugally so we can both be with ourchildren (Daryl receives a small Social Security income and I have a small income from my mother's estate). We don't miss new clothes or SUV's with DVD players. I feel like I'm playing hookie. It's a dream come true for me to be able to stay home with my precious girls.

And yeah, they pour rice on the floor, and yeah, they can sound like howler monkeys on speed, and yeah, I am so busy that it's a treat to get to shave my legs. I can shave 'em when the kids are grown.

Still, at the end of the night, I watch their sleeping faces and I am in awe of how beautiful they are and how much I love them.

This site is the offspring of a column I wrote on Themestream, a newsletter I put out now (drop me a note to sign up), and a book I've been writing. There's no advertising. It has nothing to do with money. I love children and love sharing neat crafts, books, ideas and poems with other moms.

My goal is to raise my children so that when they look back on their childhoods, they'll remember them as truly happy. Yes, there will be tough times. We can't avoid them. But I hope they'll be a little easier to take. In the meantime, letting them write their memories on the insides of their closets, giving them a round of 50 kisses and tinting their mashed potatoes blue certainly can't hurt anything.

I hope you like it.

Alicia



All works on this site copyright Alicia Bayer unless otherwise noted.
Don't take it - that would be rude.