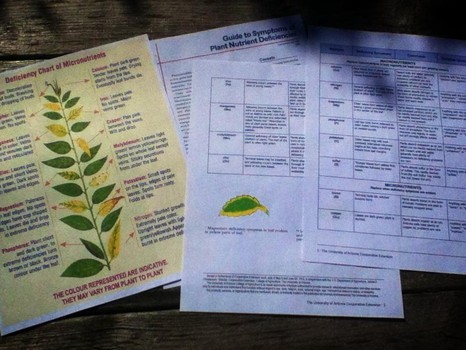 Here's a wonderful free resource to help you identify nutritional deficiencies in your garden plants. The University of Arizona cooperative extension office has developed a free color guide illustrating how deficiencies of micronutrients typically look on leaves, along with a handy chart to help pinpoint the problems and solve them.
The 8×10 color poster shows common characteristics of leaves on plants that have deficiencies of micronutrients such as zinc, boron, sulphur, iron, calcium, nitrogen, phosphorus and others. Some deficiencies may result in leaves that have folded tips, pale color, spots, darker veins, sticky secretions underneath, and so on.
Along with the visual guide is a two-page chart that goes into more detail about each nutrient, deficiency symptoms, comments and what fertilizer sources will supply the nutrient. There is also a page explaining deficiencies, symptoms and more information.
The four page guide is in PDF file and can be printed out here.
***
This article originally appeared on examiner.com.